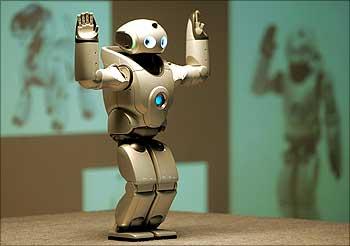 Heralding a new era of machines, robots are increasingly becoming popular in China replacing humans in most of the hard labour jobs, including chefs in restaurants.

Hundreds of small Chinese restaurants are using the robots which donned the role of traditional cooks dishing out a set menu at a faster and cheaper rate replacing the chefs.

Robots in chef uniform working with a firm dough, shooting noodles into boiling water in see through kitchens is becoming a common site in many restaurants in Beijing and elsewhere.

"It's cost-effective," said a roadside restaurateur, Zhao. "A cook doing this job usually asks for 40,000 yuan ($6,400) a year. I bought the robot last month for 10,000 yuan ($1,600). It does a good job," he told Xinhua news agency.

Inventor of the robot, Cui Runquan, a 38-year-old farmer from neighboring Hebei Province, said he has sold robots like this to more than 3,000 restaurants across China since launching the mechanical avatar in 2010.

He obtained his fist patent in 2010, for a mechanical arm, and now has four patents for his invention.

As wages grow by 10 to 20 per cent annually in China, the age of the machines is dawning.

From small restaurants to big factories, the advent of relatively cheap robots is beginning to change the country's economic landscape.

Industrial robots, with more sophisticated designs than the robot chefs, are entering Chinese factories to take on jobs like welding, painting, ironing and packaging.

"Next year, China is expected to become the world's biggest robot market, with demand for 32,000 industrial robots," said Zhao Jie, an expert on the subject for China's "863 Program," a state high-tech initiative.

"Chinese companies usually start considering robots when the payment for a skilled worker exceeds 50,000 yuan ($8,060) a year," Tan Xueke, a manager of the Xinsong Robot Automation Company said.

Tan has the math.

A welding robot, for example, can replace the work of three welders.

A welding robot currently sells for 150,000 yuan ($24,100), equal to one year's pay to three welders.

"As a robot can serve for three to five years, it is obviously an economic alternative," said Tan.

As for threats to Chinese jobs, experts say it all depends how fast engineers bring down the cost of robots, and meanwhile, how fast China's labour force shrinks.

Five years ago, a welding robot sold for 500,000 yuan ($80,600) more than three times their price now, according to Tan.

China experienced a rare decline in its labour force in 2012, the number of working-age people (15-59 year olds) in the country decreasing by 3.45 million to 937.27 million.

The trend of an ageing population is set to pose challenges to the world's second-largest economy.
The image used is for representational purpose only