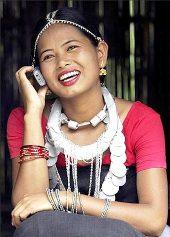 Homegrown chat application Hike messenger on Wednesday said it will offer free voice calls to its users over 2G, 3G and wi-fi services across the globe in over 200 countries.
The introduction of voice calls has come within a month of Hike making it's first acquisition - a free calling app – Zip Phone.
The free voice calling feature has been launched in beta on Android, which contributes to over 90 per cent of its user base whereas the iOS and Windows versions are slated to release by the end of this quarter, the company said in a statement.
The free voice calling feature by hike comes at a time when mobile operators are demanding that over-the-top (OTT) players like Hike, WhatsApp, Line, Skype among others should be brought under regulation.
OTT players ride VoIP or Voice over Internet Protocol to let their users make free calls through the Internet. Sectoral regulator Telecom Regulatory Authority of India has already begun the pre-consultation process regarding OTT players.
Bharti Airtel, India's largest mobile services operator, has dropped its plan to charge extra for voice calls made over the Internet using third-party applications following an outcry on social media.
Incidentally, Hike is a joint venture between Bharti Enterprises and SoftBank Corporation. It has been set up by Kavin Bharti Mittal, son of Bharti Enterprises Chairman Sunil Bharti Mittal.
"While building free hike calls, we kept two things in mind. Firstly, India is a very cost sensitive market and as a result we've ensured that our service is extremely efficient on data. It means our users can pack in more minutes per MB when calling on hike. Secondly, we've made hike's free calling service available globally in over 200+ countries," said Kavin Mittal, who is the founder and CEO of Hike.
Voice calls are optimised to consume very little data, giving its users more calling minutes per MB of data.
"Given that a majority of the mobile-internet users of India are still experimenting with data and are not on a high-bandwidth connection, this optimisation becomes critical for the Indian market," Hike said.
Launched in December 2012, hike has over 35 million users and has raised $86 million from Tiger Global and BSB till date.
Competing with global players like WhatsApp, Line and Viber, Hike has a fairly young user base with over 90 per cent of them under the age of 25, and in India.