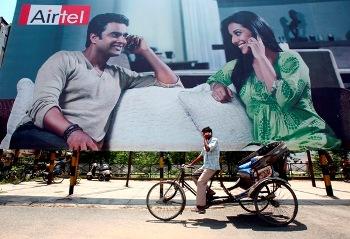 Bharti Airtel is expected to sign the $ 10.7-billion deal with Kuwait's Zain tomorrow to acquire its African assets, says a media report.
Once the deal is through, Bharti Airtel would be the seventh largest telecom company in the world, with a subscriber base of 171 million. 
According to a Kuwaiti daily, Al-Watan, the deal signing ceremony would take place at the headquarters of Zain Africa in Amsterdam on Tuesday.
Zain's chairman Asa'ad Al Banwan, CEO Nabeel Bin Salamah, Bharti Enterprises' chairman Sunil Mittal and other senior officials would attend the ceremony. 
The deal is already approved by the boards of both companies. A Bharti Airtel spokesperson declined to comment. 
Meanwhile, the government of Gabon said on Monday it 'disapproves' of the sale of Zain's Gabonese assets to Bharti Airtel and reserves the right to take 'all necessary measures'. 
Gabon said in a statement that Zain Gabon had not complied with Gabonese telecommunications regulations.