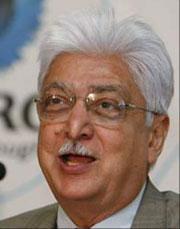 For this music buff, the sound of last week's announcement by soap-to-software conglomerate Wipro couldn't have been sweeter.
Clearly part of the grooming of Harvard-educated Rishad Premji, the group appointed the elder son of chairman Azim Premji as chief strategy officer for its flagship IT business.
Those familiar with the chairman said Premji senior is putting his son through the paces. Rishad has been general manager in the company's treasury and investor relations department for three years before his latest promotion, for which he had to go through a battery of tests and secure shareholder approval.
Of course, when your father owns nearly 80 per cent of the company, that approval isn't necessarily hard to get.
 "Rishad will now drive strategy for the IT business in terms of market focus, new vertical focus and service offerings directly working under the Joint CEOs of Wipro's IT business," said Saurabh Govil, senior vice-president, HR, Wipro Technologies.
However, Rishad will oversee only the strategy part of the role that previous incumbent K R Lakshminarayana used to play as CSO -- the M&A function will have a new structure.
Even so, as the chosen son, Rishad knows the media glare will only grow more intense in the years ahead.
Image: Azim Premji, chairman, Wipro. Photograph: Reuters