Tata Steel Group today reported Rs 364 crore (Rs 3.64 billion) consolidated loss during the second quarter of the current fiscal on lower realisation from European operations.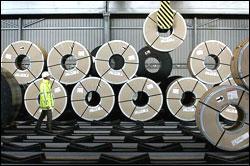 The company, which sold 6.07 million tonnes steel during the July-September quarter against 6.11 million tonnes a year ago, had clocked Rs 212 crore (Rs 2.12 billion) net profit in the second quarter of the last fiscal, the world's twelfth largest steel maker said in a statement.
Subdued steel price in Europe in the face of lower demand not only dragged the operating profit of its European unit down to a loss of Rs 40 crore (Rs 400 million) but also caused a decline in the group's operating profit at Rs 2,453 crore (Rs 24.53 billion) from Rs 3,021 crore (Rs 30.21 billion) a year ago.
The Indian operations, on the other hand, put up a much better show at Rs 2,669 crore (Rs 26.69 billion).
"The Indian operations continued their steady performance against a backdrop of lacklustre demand in the market place and increasing imports. Ramp-up of the newly expanded capacity at Jamshedpur resulted in increased deliveries... primarily because of our focus on the distribution business and customer orientation," Tata Steel managing director H M Nerurkar said.
The poor earnings show dragged the share price of the company down by 3.25 per cent to Rs 390.55 apiece on BSE.
The disappointing show in Europe is unlikely to change soon with Tata Steel Europe's CEO and MD Karl-Ulrich Kohler saying, "European steel demand and prices have weakened since the spring and this took its toll on our financial performance... we are certainly this year not going to see any major improvement in the condition in European Union."
Consolidated turnover of Tata Steel Group rose by 4.1 per cent to Rs 34,133 crore (Rs 341.33 billion) against Rs 32,798 crore (Rs 327.98 billion) a year ago.
Kaushik Chatterjee, promoted as the whole-time director with immediate effect from group chief financial officer, said Tata Steel's net debt, stood at $10.44 billion and the company has a $1.8 billion cash and cash equivalents as on September-end.
Chatterjee said there is no plan to raise debt immediately.
Nerurkar said the three million tonnes per annum (mtpa) brownfield expansion in the company's Jamshedpur (6.8 mtpa) facility is getting commissioned and would reach the capacity in the last quarter of the current fiscal.
The greenfield facility in Kalinganagar in Odisha would start production by FY'15, he added.
"The price of global benchmark hot-rolled coil that Tata Steel produces, used in making cars and home appliances, averaged 19 per cent lower in the last quarter, because of slowing sales in Europe and weak Chinese demand," said brokerage Microsec Capital Limited in a report.