Tata Motors on Thursday said its popular mini commercial vehicle 'Ace' and passenger variant 'Magic', may soon be launched in South African, Asean and the Middle Eastern markets.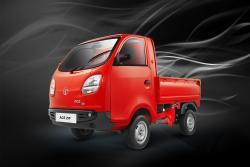 Tata's mini truck Ace and passenger vehicle Magic, which together crossed the 1-million sales mark in August, are already present in 24 countries.

"We believe we have much more opportunities. We will be looking to expand more in South Asia, the Middle East and the Asean (Association of Southeast Asian Nations) markets," Tata Motors executive director (commercial vehicles business) Ravi Pisharody said.

"We had the capacity constraint till about March-April. But now we got the expansion going (which will cater to the increased exports)," he added.

The Ace was launched in 2005 with a capacity of 30,000
units annually at its Pune facility. In 2007, the company rolled out the Magic variant to cater to the passenger segment.
Since the success of the vehicles, the company set up a dedicated plant at Pantnagar in Uttarakhand, with a capacity of 500,000 units per year.
Total sales of the two vehicles in October stood at approximately 1.06 million of which domestic sales were at 997,133 units and exports at 62,002 units.
"Of the 1 million units, half have come in the last 26 months alone. We look forward for a rosy outlook for this platform and hope to achieve the next 1 million even in a shorter time," Pisharody said.
The two vehicles are currently sold through 1,346 showrooms with about 50 per cent sales coming from semi-urban and rural markets.
The company enjoys about 80 per cent share in this segment, Pisharody said, adding the vehicle comes in 10 variants.