The United States, led by Phil Mickelson and Keegan Bradley, snatched a 5-3 lead over Europe on a gripping first day of the 39th Ryder Cup on Friday.
Inspired by their brilliant young rookies, the Americans won three of the four afternoon fourball matches to seize control after Tiger Woods lost both his matches with his playing partner Steve Stricker.
The US captain Davis Love III then announced Woods would be rested for Saturday morning's foursome matches, marking the first time in his seven Ryder Cup appearances that he has been benched.
"I think Tiger needs a rest, Steve needs a rest," Love said after Saturday's pairings were announced.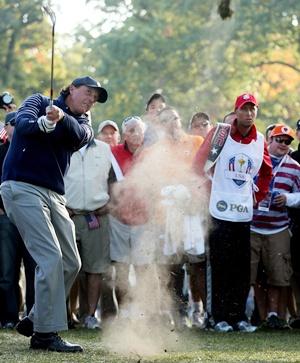 "We just don't want guys to be worn out. We need Tiger and Steve in the afternoon (for Saturday's fourball matches)."
A fired-up Mickelson and an in-form Bradley won both their matches together while Northern Irish World No. 1 Rory McIlroy split his two matches for Europe.
Bubba Watson and first-timer Webb Simpson set the tone for the US with a dazzling display of shot-making and clutch putts, piling up 10 birdies together to pummel Scotland's Paul Lawrie and Swede Peter Hanson 5&4.
Cup veteran Mickelson and rookie Bradley followed suit with a 2&1 victory over McIlroy and Graeme McDowell before Dustin Johnson and Matt Kuchar defeated Englishman Justin Rose and Germany's Martin Kaymer 3&2.
In the bottom match, Belgian rookie Nicolas Colsaerts kept holing lengthy putts as he and Britain's Lee Westwood held off a late birdie flurry by Woods to win 1 up.
"We played as a team today, and I think that's all we wanted," Love said.
"We got off to a great start. It took Bubba and Webb to get them going right out of the gate in the afternoon. That really started the ball rolling."
Love has set up Medinah's No. 3 course with virtually no rough to create a birdie fest this week and after both teams took advantage in the first session, it was mainly the Americans and Colsaerts who feasted in the afternoon.
Masters champion Watson and US Open winner Simpson, held back for the morning's foursomes, came out all guns blazing before sealing a commanding win at the par-five 14th, the biggest victory margin for the US in a team match since 1995.
"We ran into a bit of a wall," Hanson said after the European duo's total of six birdies was swept aside. "They were nine under through the first 10 holes, and we just couldn't jump on the train."
Four-times major winner Mickelson and 2011 PGA champion Bradley birdied their first three holes to take control against McIlroy and his fellow Northern Irishman McDowell.
Though the Europeans came from four down after eight holes to trail by dormie two, Mickelson secured victory with a stunning seven-iron to within two feet at the par-three 17th.
Mickelson and Bradley, who had outplayed his more experienced partner with a personal haul of six birdies, hugged each other in celebration as the crowd erupted with deafening cheers.
"I'm just having such a blast playing with Phil," said a jubilant Bradley, who has been mentored by Mickelson since he made his debut on the PGA Tour last year. "That was the best shot I've ever seen in my entire life.
"I'm just happy to be a part of it. It could be the best day of my life. It was so much fun."
The long-hitting Colsaerts, also making his Ryder Cup debut, produced astonishing form in his first match for Europe, racking up eight birdies and an eagle for a 10-under 62 on his ball.
Woods, who had struggled badly in the morning, made five birdies in the last nine holes to give the Americans a faint chance of winning but he narrowly missed a 15-footer at the last to hand the Europeans their only point of the afternoon.
"Nicolas probably had one of the greatest putting rounds I've ever seen," said Woods. "We ran into a guy who made everything today. He was like seven under through 10. I quit counting after that."
Bidding to win the Ryder Cup for only the second time in six editions, the Americans had trailed in all four of the morning's foursomes before fighting back to split the session.
Europe, under the captaincy of Jose Maria Olazabal, field one of their strongest ever lineups but face a challenging task to retain the trophy with the US having lost only three times on home soil since the matches began in 1927.
"Obviously not the day we were expecting, especially in the afternoon," said Spaniard Olazabal. "We do have to change the momentum. We need to have a great day tomorrow, both morning and afternoon sessions."
Photograph: Jamie Squire/Getty Images