Godrej and Big Bazaar have stood out in the consumer goods and service spaces by acing the challenge of aligning innovation with outcome.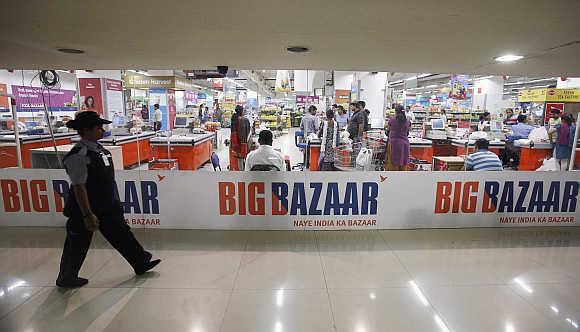 Innovation and disruption hold the key to growth and longevity for any conglomerate.

In rapidly growing markets, where more and more organisations throw their hats into the competitive ring, innovation is what separates the "leaders" from the "followers".
When it comes to the consumer goods and services spaces, Godrej and Big Bazaar stand out for acing the challenge of aligning business innovation with business outcomes.

While innovation has helped Godrej Consumer Products Ltd identify virgin markets and create new product categories, Big Bazaar continues to expand its reach and appeal among consumers through its refreshing loyalty programmes coupled with new innovations such as the Gen Nxt store.
"Our focus on innovation has allowed us to not just build on our core categories, but also find new, emerging footholds in adjacencies and thereby broaden our portfolio and drive additional sales," says Vivek Gambhir, managing director, Godrej Consumer Products Limited.
The company's innovations are addressing the bottom of the pyramid as well as providing premium benefits to mass consumers, helping Godrej to accelerate growth.
Over the last few years, the company has refashioned its approach by accelerating its innovation pipeline, ramping up internal capabilities, investing significantly in R&D and sharing learning across geographies to create more exciting products.

Today, almost 40 per cent of the company's incremental growth is being driven by new product launches.
Gambhir says Godrej's overall approach towards product development is now more "whole-brained".
The company is undertaking a lot more experimentation and prototyping and employing design-driven thinking to come up with faster and better innovations.
All these efforts are bearing fruits. For example, focus on design and ease of use saw Godrej launch the first hair colour in a sachet in India.
Godrej Expert Rich Crème, at Rs 30 which is less than half the price of many competing products, claims to offer equal if not better quality than much more expensive products.
At the same time, it offers a consumer who may have been using powders (priced at around Rs 18) a chance to upgrade.
It's a classic example of how premiumisation helped the company break through a category dominated by a handful of players with exorbitant products.
Similarly, the company introduced the Good knight Fast Card - a paper-based mosquito repellent for Rs 1.
Godrej leveraged the idea from its Indonesia business, but substantially modified the product for India. It's one of the fastest growing products for the company and touched a Rs 100-crore turnover in less than a year.
Even as Godrej is raising the bar for innovative offerings in the FMCG segment, Future Group-led Big Bazaar is making waves in the fiercely competitive retail industry by expanding aggressively across urban as well as rural markets.
As the e-commerce markets opened up with changes in lifestyles, most of the consumer goods and services players had to rethink business strategies and needed outcomes.
"Players like Big Bazaar had to focus on getting closer to the customer, prioritise business areas and ensure that the movement of goods and services was continuous," opines Madhur Kathuria, CEO, AgiVetta Consulting.
Sadashiv Nayak, CEO, Big Bazaar, says the company stands for consumption. Its innovations are built around two or three guiding pillars promoting consumption with focus on "empowering customers".
"This essentially means democratising a lot more new products, getting completely a new set of innovative categories inside the store and eventually getting people to buy more because it helps change their lives for the better," says Nayak.
Big Bazaar is always on the watch out for breaking down the barriers in terms of changing the consumer's consumption behaviour and at the same time finding ways to trigger new consumer habits.
One such example is its Wednesday Bazaar initiative. The event emerged from the insight that a homemaker is always on the lookout for replenishing groceries in the middle of the week but at much more affordable prices than available.
A concept, which began as a small marketing idea, has turned into a movement driving heavy consumption for Big Bazaar and its associates.
It also helps the company expose consumers to categories other than food and grocery.
Another instance of empowering customers is Big Bazaar's focus on offering a wider assortment of products.
The company has been offering buyer kits - a combination of products such as toothpaste and toothbrush and a cleaning or beauty regimen.
According to Nayak, kits play a critical role in encouraging buyers to return for more such offerings.
For one, combining products makes the offering cheaper. Second, customers get a larger product variety with vendors competing to offer them the best price.
Third, it helps build a unique habit where buyers are inclined to go for a combination of products.
The retailer has its eyes and ears glued to the changing consumer aspirations.
"A few years back, we realised the homes of India were changing. Homes were getting a lot more compact in the cities and getting a little broader in small towns," says Nayak.
The company responded to this by experimenting with its product assortment for both urban and rural buyers. The focus now was on providing simple design solutions to customers. This led to product innovations such as a quick dry towel for a humid city like Mumbai.
Big Bazaar has been known for wooing its consumers through heavy discounts and loyalty programmes.
The rationale for discount or deal offers is driven by a single-minded focus to ensure that the customer gets the desired product at the best discount after negotiations with vendors.
In turn, vendors get to benefit from heavy promotions and large consumption events like Maha Bachat or Sabse Sasta Din.

Currently, the retailer is offering buyers monthly cash bonus vouchers. If a buyer buys something in the first 10 days of a month, she gets a booklet with minimum benefits worth Rs 2,000 with a lot of freebies thrown in.
"For us discount, promotion and pricing are the three enablers of giving final value to our customers," emphasises Nayak.
For Big Bazaar, innovation is a continuous process. Its newly launched Gen Nxt stores - designed to offer buyers a smarter shopping experience through tech innovations and wider product choices - is a new initiative in keeping with the mantra.
Does the move signal that Big Bazaar is eyeing customers with more purchasing power as it introduces them to a more premium and exclusive shopping experience?
Nayak is quick to clarify that Gen Nxt is not a premium offering. "It's Big Bazaar and we will always be at the middle of consumption and continue to be a brand that a large mass of people will like to consume."
These stores will serve as a one-stop shop option for next generation, he says.
A large format store like Gen Nxt will help Big Bazaar ensure buyers don't miss out on a shopping experience for lack of space or infrastructure.
A "no-frills" approach towards innovation is what distinguishes both Godrej and Big Bazaar from competitors, says Dr Sanjay Patro, professor of marketing, XLRI - Xavier School of Management.

To be successful, companies need to focus on local solutions and appropriate technology which could benefit vast untouched markets.

And most importantly, the leadership needs to step up to encourage people to think big and cultivate a culture of innovation that would fuel new ideas leading to path-breaking solutions, says Patro.
A culture, not a project: Saurabh Uboweja
Innovation needs to be developed as a culture, not a project. If it remains a project, then innovation will start and end with the project.
If innovation becomes a culture, then it becomes a power factor for your business, something that's constantly generating brand equity for you by showing up repeatedly through business model innovation, product design or service delivery.
Identify and enable: The first step in creating a culture of innovation lies in identifying and enabling an innovation leader in the organisation. I call it the i-leader.
The i-leader is not just a namesake position. This is the person who understands how innovation works and can act as the catalyst and mentor to build systems, processes and an internal brand and thinking around innovation. Godrej has Navroze Godrej who fills that role perfectly.
Build unity: The second step is to build unity among other leaders in the organisation on the need to enrol innovation as an important conversation in board and strategy meetings.
Once innovation becomes an important pillar of business strategy for an organisation, it's important to create an environment that fosters and rewards innovation.
Godrej has done this by developing several internal initiatives and physical spaces over the years such as their Innovation Centre, The Hubble and Godrej India Culture Lab.
Saurabh Uboweja
CEO, Brands of Desire