It was second day of rally for the markets taking the Sensex to a new life time high crossing the May highs.
The rally was led by frontline IT stocks and other index pivotals, however, the midcaps and the smallcaps did not do much.
The Sensex closed at 12,736.42 up 198.44 points or 1.58%. The Nifty gained 50 points to close at 3553. The BSE Small Cap Index closed at 6,416.89 up 19 points .
The BSE Midcap Index ended at 5,288.30 up 16 points.  Other than the metal and auto index, all the other BSE sectoral indices ended in green.

The BSE IT Index gained 2.3% at 4,797.04. Infosys, TCS, Wipro and Hexaware Tech advanced.

The BSE Oil and Gas Index gained 1.1% to close at 5,905.63. ONGC, Reliance and GAIL closed higher.

The BSE Capital Goods Index was up 1.2% at 8,344.88. Praj Industries, Lakshmi Machine, Greaves Cotton, BHEL and ABB closed higher.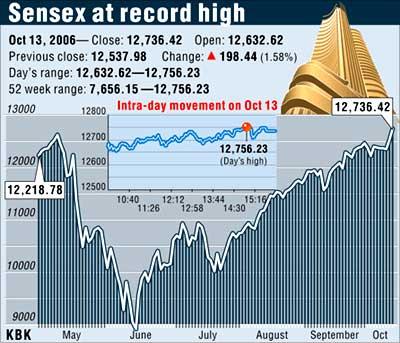 The BSE Bankex was up 1.6% at 6,106.53. UTI Bank, HDFC Bank, Canara Bank and Karnataka Bank moved upwards.

The BSE FMCG Index rose 1.3% at 2,036.38. ITC, HLL, Britannia and Nestle closed in green.

The BSE Health Care Index was up 0.5% at 3,657.52. Nicholas PiramaL, Ipca Labs, Sterling Bio and Dr Reddys Labs closed higher.
The BSE Auto Index closed at 5,502.44 down 0.03%. However, Asahi India, Apollo Tyres, MICO, Tata Motors and Hero Honda were among the gainers.
The BSE Metal Index was down 0.3% to close at 8,690.95.

The NSE cash turnover was at Rs 8163.02 crore and the NSE F&O turnover was at Rs 27626.64 crore. The BSE cash turnover was Rs 4078.21 crore. Total market wide turnover was at Rs 39867.87 crore.
Markets Today:
All time closing high for Sensex

Sensex up 1.58% or 198.44 points at 12736.42

Nifty up 1.52% or 55 points at 3676.05

BSE IT Index up 2.3%; Infosys up 3.3%, Wipro up 2.2%, TCS up 2%

BSE FMCG Index up 1.3%;HLL up 1.7%, ITC up 1.6%

BSE Cap Goods Index up 1.2%; Siemens up 3.4%, BHEL up 2.9%

BSE Oil & Gas Index up 1.1%; ONGC up 1.8%, RIL up 1.77%

CNX Mid-cap Index ends almost flat at 4775.50

Tech Mahindra up 8.3%, Reliance Comm up 6.1%

BSE Small Cap Index ends marginally higher at 6416.89

Apar Ind up 16.8%, Kewal Kiran up 11%, IOL Broadband up 10%

NSE Advance Decline ratio ends marginally in favor of declines

Total market turnover at Rs 39867.87 cr Vs Rs 36281.69 cr on Thursday
Markets this week
Sensex hits all-time closing high during this week

Sensex up 3% at 363.6 poinst at 12736.42

Nifty up up 3% or 106.35 points at 3676.05

IT stocks in focus; Infosys Q2 results beats street expectations

BSE IT Index up 9%; Infy up 11.50%, TCS up 11%, Wipro up 8.5%

BSE Oil & Gas, Capital Goods Index up nearly 1.5% each

Index Gainers: Suzlon Energy up 8%, HDFC up 6.5%, Grasim up 6.25%

CNX Midcap Index ends almost flat at 4775.50; still 10% down from all time high

Midcap Gainers: Glenmark Pharma up 14%, Jindal Saw up 7.5%; J&K Bank up 6.1%

Midcap Losers:Moser Baer down 6%, Arvind Mills down 4.8%

BSE Small Cap Index up 1.2% at 6416.89; still nearly 18% down from all time high

Small Cap Gainers: Atlanta up 47%, Donear Ind up 53%

Small Cap Losers: Mirc Electronics down 12%, Crew BOS down 10%
Diwali comes early to Dalal Street
Diwali has come early to Dalal Street with fireworks lighting up its sky at record high levels and this time around Sensex appears far more comforting at the peak as against its previous record high in May, the analysts believe.
While the market has taken more than 5 months to return to the current levels, it looks more comfortable this time, as compared to the one scaled in May, the analysts said.
"The new high is far more comforting as it comes after the May jerk, which had subdued the markets," ValueResearch CEO Dhirendra Kumar told PTI.
Though most investors would land up with only marginal highs as they lost a great deal in the May Meltdown, it is good news for the equity investors who are already in the festive mood of Diwali, he added.
Despite a sharp plunge of more than 30 per cent during May-June period, the markets are still more than 50 per cent above their levels on Diwali last year.
The analysts also anticipate a renewed interest in the mid-cap and small-cap stocks after a record-breaking rally in the Sensex, fuelled by aggressive buying in blue-chip stocks recently.
There is cheer ahead for small investors if Sensex could guard its current levels and sustain the uptrend. Then, small and midcap stocks would also catch up, Kumar said.
Currently, the small and midcap stocks are showing resilience, they should soon catch up, he added.
The current rally has come on the back of expectations for robust second-quarter results from the banking and IT sectors and the analysts anticipate further uptrend potential ahead in these two segments.
"The banking sector is still undervalued and we maintain a positive outlook for the sector. The sector is doing good as the pricing power is back with the banks and the hybrid capital could raise the valuation to up 35-40 per cent," Edelweiss Capital banking analysts Vishal Goyal said.
Strong quarterly results expectations have revived the investor interest and both private and public banks are likely to gain 20 per cent in the coming 12 months, he added.
IT stocks have already gone on a sharp upward rally fuelled by impressive quarterly results from Infosys earlier this week, while other IT majors like TCS and Wipro are expected to follow the suit with robust second quarter results.
The analysts said the record-breaking rally should continue on the bourses through the rest of the year and it would be no surprise if the 13,000 level is breached by Diwali.
However, besides corporate results and upbeat festival mood, global factors like crude oil prices and cues from the world equity and commodity markets would play a major role in defining the future course of domestic bourses.
Additional Inputs: PTI