Using its newly-granted powers to access call data records and conduct surprise visits, capital markets watchdog Sebi has unearthed a large-scale SMS scam wherein fraudsters were luring gullible investors with promise of daily returns of up to Rs 75,000 through mobile messages.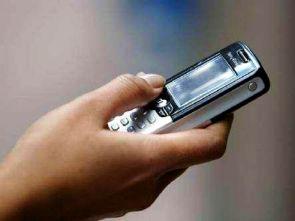 As an interim measure, Sebi has restrained two individuals and four entities associated with them from direct or indirect dealings in securities markets till further direction, while they have also been asked to cease and desist from acting as investment advisors and portfolio managers.

Besides, they have also been asked to immediately withdraw and remove all their advertisements, representations, websites and other materials in relation to their advisory services.

Sebi swung into action last month after it noticed that certain entities were offering intra-day tips and stock advisory services through Short Message Services (SMSs) via mobile phones.

The messages being circulated by them included promises of Rs 5,000-75,000 daily earnings in "equity and MCX market with our confirm intraday tips" and the investors were asked to call on given numbers for "sure shot call".

After noticing these messages, Sebi began its investigation and obtained details of the call data records of the telephone numbers used for sending such SMSs.

Thereafter, Sebi conducted a surprise visit on the premises of one Imtiyaz Hanif Khanda and his maternal uncle Vali Mamad Habib Ghaniwala.

This is the first major case where Sebi has used its newly granted powers to access call data records of suspected persons, which it has got through changes made in the regulations governing the securities markets through an Ordinance. Besides, Sebi has also got powers to conduct search and seizure operations, among others.

Passing an order against in the present case, Sebi said its investigations prima-facie found that the said persons through their proprietary concerns, Right Trade, Sai Traders, Bull Trader and Laxmi Traders, were providing unauthorised investment advice.

Besides, Right Trade was also soliciting business of portfolio management services from the general public without being registered as a portfolio manager. The entities had also made misrepresentations by making unrealistic claims, false statements such as having office in various countries, FII based calls, jackpot calls, etc.

"They also made representation in reckless and careless manner in their messages and website suggesting facts which are not true," Sebi said.

Sebi said the entities "were engaged in providing intraday tips for a consideration/profit
sharing under a plan under which the trading tips are provided after depositing registration fees into account of the entity as an advance."
They were also promising 'jackpot' calls in global markets through different plans, including a monthly package of $300 per month and a 'pay per call' 30 per cent profit sharing scheme. The investors were given details of bank accounts for depositing the money.
Sebi sought details of these bank accounts from the concerned bank and found that all the accounts were at the same branch of ICICI Bank in Surat, Gujarat.
It was found that most of the transactions in all these accounts were cash deposits from various parts of the country, which cash was being withdrawn through ATMs.
The bank account details revealed that Right Trade and Sai Traders had common address, while Bull Trader and Laxmi Traders also shared their address. The mobile phone numbers given in the SMSs containing investment tips were also found to be in the names of related entities, including those of staff and relatives.
Subsequently, Sebi's investigating offiers on August 1 also conducted "surprise inspection" of the premises from where these entities were operating.
After being confronted, Ghaniwala claimed he had no knowledge of the stock market and he had "merely signed the Know Your Client documents (for bank accounts) as directed by Imtiyaz Hanif Khanda".
Khanda was not available at the said address during the visit, but he responded to the summons issued to him by Sebi's Investigating Authority and appeared before it on August 5.
He admitted to having carried out business of providing investment advice in both equities and commodities in lieu of consideration and under profit-loss sharing schemes.
He also accepted that he had advertised through SMS inviting prospective clients to enrol for his services and the the mobile numbers indicated in the advertisement belonged to his staff or relatives.
Khanda said that no documentation was entered into with his clients for providing the investment advice services.
Sebi said that their conduct was in contravention of various regulations, including those for prohibition of fraudulent and unfair trade practices, as also those related to investment advisers and portfolio managers.
Passing the order, Sebi's whole-time member Rajeev Kumar Agarwal said: "I also take this opportunity to caution investors to take their informed investment decisions without being influenced by such messages and advices and to deal with only intermediaries registered with Sebi."
"It is apprehended that investors at large could be further misled on account of the fraudulent activities of such unregistered entities," he observed.