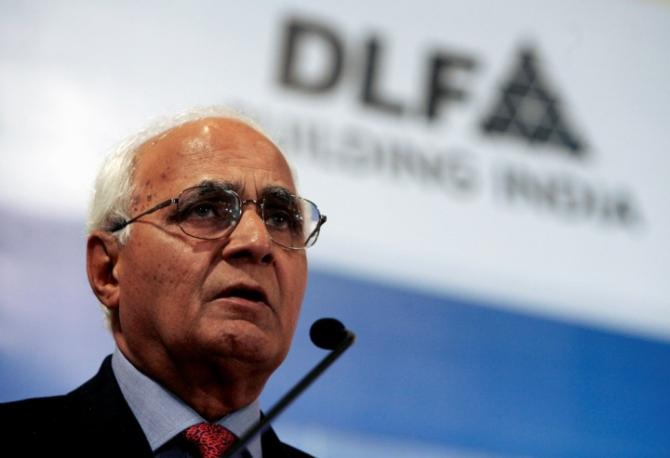 Days after the Securities and Exchange Board of India, or Sebi, banned six executives of DLF, including Chairman KP Singh, from accessing the capital market for three years for withholding information from investors when the company went public in 2007, the industry is abuzz with talk that the realty giant is planning to sell assets, including projects under construction, to reduce debt.
Those in the know say the inventory could be sold at a discount to generate quick cash to boost inflows.
Over the past two years, DLF has sold almost all its non-core assets in its effort to pare debt, which peaked at Rs 23,000 crore (Rs 230 billion) in 2011.
At the end of June, the company's debt was at around Rs 19,000 crore (Rs 190 billion).
It aims to bring it down to Rs 17,500 crore (Rs 175 billion) by the end of 2014-15.
A Mumbai based analyst, on the condition of anonymity, says DLF may look at selling land parcels in south India.
"DLF has land in Chennai and Hyderabad. Preliminary discussions are on to sell those assets to reduce debt.
There is hardly anything left in non-core assets."
The Sebi ban, could send DLF's plans of listing its rental assets as a real estate investment trust (REIT) haywire.
DLF had planned to acquire 40 per cent economic interest of the promoters in the group's rental business-DLF Assets- through a share swap deal.
"Swapping of stake at DLF Assets with shares in the listed company could have given DLF headroom to raise fresh equity and reduce debt," a report by Macquarie Capital Securities said.
DLF's inability to access capital markets could impact not just its fund raising plans through the listed company, but also the potential listing of its rental assets as REIT, the report added. DLF refused to comment.
In a statement, the company said it will defend itself to the fullest extent against any adverse findings and measures contained in the order passed by Sebi.
Last year, DLF sold non-core assets for about Rs 6,000 crore (Rs 60 billion), including its wind energy business, insurance business and Aman Resorts.
It also managed a refund from the Delhi Development Authority for one of its projects that was scrapped to make way for an international convention centre.
The Sebi order is yet another legal setback for DLF this year.
In May, the Competition Appellate Tribunal upheld a penalty of Rs 630 crore (Rs 6.30 billion) imposed by the Competition Commission of India on DLF for unfair business practices.
Subsequently, the Supreme Court also asked DLF to deposit the penalty amount, pending the final order.
Then, the Punjab and Haryana High Court cancelled the allocation of 350 acres of land to DLF in Wazirabad that it had won in an auction.
Given the slow business environment, DLF's troubles don't augur well for an industry struggling to generate sales.
Despite heavy discounts and easy payment options, sales have not picked up this festive season.
For the June quarter, sales for DLF were down 25 per cent at Rs 1,725 crore (Rs 17.25 billion) over the same quarter a year earlier.
Image: DLF chairman, KP Singh
Photograph: Reuters