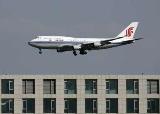 Chinese auditors have found millions of dollars of irregularities in airport construction projects across the nation, days after reports of a high-profile railways scam.
Ten airport projects across the country cost taxpayers 159 million yuan (Rs. 1.097 billion) in false accounting and tax avoidance, said the National Audit Office.
China's airport building boom during the past five has boosted local economies, but it has also led a series of graft and environmental problems, said the NAO.
A total of 23 airports projects, which cost 1.94 billion yuan (Rs. 13.38 billion), were not open to public tendering even though they were supposed to be, it said, implying that the contracts were open to abuse.
"Relevant government departments are investigating further in accordance with the law and will...find out who is responsible and hold them accountable," auditors said in a statement reported on Tuesday by
China Daily
.
The NAO said 32.4 billion yuan (Rs. 223.622 billion) had been spent in 10 provincial-level regions on building or revamping 53 airports by the end of 2009. The audit focused on 31 key airports that benefited from 94.4 per cent of the investment.
The airports scam came just days after the sacking of China's long-standing Railway Minister Liu Zhijun from a key post of the ruling Communist Party, pending investigations into the corruption charges.
In his nine year tenure as Railway Minister, Liu overseen Chinese railways emergence as global giant with rail-links connecting length and breadth of the country, costing billions of dollars.
He is being probed for links with a business woman, who supplied machinery for the fast developing speed trains. Speculation is rife that a lot of railway contracts approved by Liu may be cancelled.
The airport building boom came as part of China's efforts to stimulate domestic demand - primarily through encouraging infrastructure building with the investment of four trillion yuan (Rs. 27.612 trillion) during the global financial downturn in 2009.
The audit result was based on the reading of 359 project contracts, or 20 per cent of the total number of contracts signed with the 31 airports, said the NAO statement.
Irregularities in the tendering process were especially prominent at Daqing Saertu Airport, in Northeast China's Heilongjiang province, where the cost of work was double what was expected because of inflated contracts, the audit office said.
An engineer said "monitoring of money spent became a mere formality as the city (Daqing) was rushing to finish building the airport as a gift to celebrate China's 60th anniversary".
"They had to spend more to hire extra workers and to urgently order equipment ahead of plans to bring forward the end of construction," he said.
Five other airports were named as having snagged large chunks of construction money by filing multiple applications, the NAO said.
Contractors and suppliers to nine airports issued false invoices or made informal acknowledgement of debts worth about 100 million yuan (Rs. 690.313 million) to avoid taxes, it added.
In addition to financial misconduct, the audit office also said there were other adverse impacts from the airport construction boom.
Many new airports were accused of opening before they had completed their final environmental impact studies and of dumping wastewater in nearby rivers and fields.
Shen Kui, a professor in administrative law at Peking University, said the $570 billion (Rs. 25.926 trillion) stimulus investment that was directed at improving infrastructure was open to abuse back in 2009.
"Because, in that urgent situation, the money needed to be spent fast...This scandal should prompt us to reflect on how to trade off between the effective implementation of the central government's strategy and the standards and rules of tendering."
China earmarked more than 68 billion yuan (Rs. 469.347 billion) during the past five years on building or expanding 53 airports and, despite the problems encountered, the process has been worth it, said the NAO watchdog.
"Airport building has, to a definite degree, driven regional economic development and improved the local investment environment," it said, adding that subsidies to airports in remote areas had boosted growth and created almost 60,000 jobs.