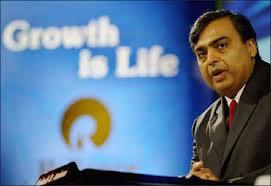 Reliance Industries does not see any threat of work stopping at any of its KG-D6 gas fields and other blocks that figure in the list of 14 areas that have been classified as 'No-Go' areas by the Defence Ministry.

RIL sources said the company has not received any communication from the government to stop work in KG-D6 or any other blocks.

The Ministry of Defence has either withdrawn or withheld clearances for exploration and production activity in 47 oil and gas blocks. Of these, 14 have been classified as 'No-Go' areas. RIL's KG-DWN-98/3 or KG-D6 block has been declared as 'No-Go' as it overlaps with a proposed Naval base.

"RIL understands that Ministry of Petroleum and Natural Gas has taken up the issue of pending clearances for various blocks at the highest level for resolution," a company source said.

"RIL
doesn't see any threat of stoppage of any operation in its blocks."
The company's Mahanadi basin block NEC-OSN-97/2 (NEC-25), where sizable gas discoveries have been made, has also been classified as 'No-Go' area as it is close to missile launching range/air force exercise area.
The other 12 "No-Go" blocks are with state-owned ONGC, Cairn India and Australia's BHP Billiton and reasons cited for withdrawing clearance including being close to missile launching range, overlapping with proposed Naval base, with the Naval firing range and Air Force exercise area.
Companies like RIL have already invested $15 billion since 2000 and the Ministry of Defence has now withdrawn or withheld clearance to them.
Sources said the newly constituted Cabinet Committee on Investment is likely to consider this week giving clearance to 47 oil and gas blocks where the Defence Ministry has either withdrawn clearances or put stringent conditions.