The managing directors of at least two companies, Indiabulls Real Estate and Peninsula Land, quit recently. So did the real estate heads of two property funds, Indiareit and Everstone Capital.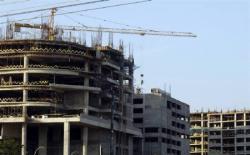 They are either moving to other realty companies or starting their own ventures or shifting streams to join consultancies.
Early last month, Vipul Bansal, joint managing director of Mumbai-based Indiabulls Real Estate, who spent seven years with the group, joined another developer, DB Realty, in Mumbai as its chief executive.
This week, Rajesh Jaggi, managing director of Peninsula Land, an Ashok Piramal company and who was with the group for 14 years, moved to Everstone Capital, a fund management company promoted by Sameer Sain, as managing partner of the real estate business.
Among the real estate funds, Ramesh Jogani, managing director and chief executive of Ajay Piramal group's Indiareit, quit to set up a venture. He was a property developer before joining the fund manager.
Earlier this month, Shishir Baijal, partner, Everstone Capital, joined the Indian arm of global real estate consultant Knight Frank as country head and managing director after its chairman, Pranay Vakil, retired and vice-chairman Pranab Dutta was made chairman.
Even consultants have seen top level changes. Recently, Amit Goenka, national director, capital transactions, Knight Frank, quit to set up a private equity fund. In May, Sanjay Dutt, chief executive at property consultancy Jones Lang LaSalle (JLL), quit to join another consultancy, Cushman & Wakefield, as executive managing director.
In June, JLL announced it had hired Cushman's Anurag Mathur as CEO, project and development services, and head, emerging businesses.
Why so much churn in a sector where changes at the top are generally few? E Balaji, chief executive and managing director at human resources company Randstad India, links it to the slowing in the sector.
"One broad inference is that when a sector is going through difficult times, when sales are down and profitability is under pressure, companies make managements accountable. They expect quick turnaround," he said.
According to realty research firm PropEquity, the region in and around Delhi saw a drop of 30 per cent and 50 per cent in absorption of residential units in June and July, as compared to corresponding months of the previous year.
The Mumbai Metropolitan Region saw a dip of 28 per cent and 30 per cent in June and July, respectively.
Some others say the growth and maturity in the sector is responsible for the churn. "The industry is getting deeper and wider. It has really developed over the last seven years. Earlier, talent used to come from outside. Now it has grown large enough that talent within is moving around," says Dhanpal Jhaveri, partner and chief executive at Everstone.
At least half a dozen big realty companies - DLF, Oberoi Realty, HDIL and Godrej Properties, among others - have tapped the capital markets in the past six years and listed on the exchanges.
According to Pranay Vakil, former chairman of Knight Frank India: "Though I do not have an answer for the sudden churn in the sector, I believe the sector has matured and enough talent, with adequate experience, is available."
V Hari Krishna, director, Kotak Realty Fund, calls the churn in property funds a "seven-year itch". "Since the lives of most funds are coming to an end after their seven to eight-year fund life and most of the guys had been there for that long, churning is bound to happen," he adds
Why, then, are top executives hopping from realty companies to private equity and from PEs to consultancies?
Says Vakil: "Developers, funds and consultants are very well related and it depends on what side of the table you sit. If you sit on one side, you can understand how the other party reacts."