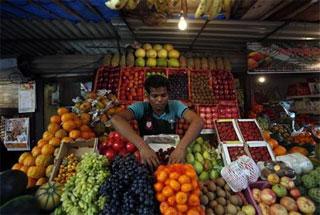 Reserve Bank of India Governor Raghuram Rajan on Saturday said the central bank would like to focus on medium-term inflation targeting and will not chase the short-term goals.
"The medium term is what gives you time to let the economy adjust to the changes that are happening. This is the sensible inflation targeting that we have to debate about," he said at the annual conference of Indian Economic Association.
Rajan stressed no country in the world chases short-term inflation target ignoring domestic and global developments.
"What typically done is ... medium-term flexible inflation targeting ... We want to achieve this objective and we are going to give a time to reach that objective. And if we go off track we will recalibrate to reach that objective within the medium term. So, I don't have to achieve tomorrow but I have to try and get back to it over the medium term," he said.
The RBI-appointed Urjit Patel panel has suggested that the central bank should aim at 8 per cent retail inflation (CPI) by March 2015 and 6 per cent by March 2016.
"I do believe RBI still has a role in controlling inflation. We are not going to close shop and go home."
RBI has kept interest rate (repo) unchanged at 8 per cent since January despite industry and government urging it to cut the rate.
The Wholesale Price Index (WPI) based inflation is on a decline and in November dropped to zero level, the lowest in about five-and-a-half years. Retail inflation, too, fell for the fifth straight month in November at 4.38 per cent.
RBI will be announcing its next bi-monthly monetary policy on February 3.