Noted Jurist V R Krishna Iyer criticised Prime Minister Manmohan Singh for his "unfeeling indifference" to Kerala's request for a country wide ban on endosulfan, even as Left MPs held a protest in Parliament House to press for the ban.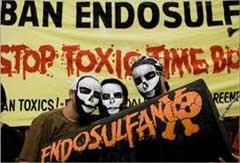 A petition was also moved in the Supreme Court by a youth wing of CPI-M seeking a ban on sale and production of this pesticide across the country.

Throwing his weight behind the strident demand in Kerala for the ban of this pesticide, Iyer, a former Supreme Court judge, said, "I disapprove of the prime minister's unfeeling indifference to the request of all the Kerala ministers jointly requesting the ban of the dangerous and deleterious endosulfan, which is most harmful to human life."

"The prime minister's attitude is violative of the right to life of the Indian people and to continue the manufacture and distribution of endosulfan is unfortunate and violative of Article 21," he said in a statement in Kochi.

Iyer backed the protest against the use of the pesticide led by Chief Minister V S Achuthanandan who observed a day-long fast on Monday.

It is "shameful and shocking" that India should be the largest consumer of endosulfan while more than 63 countries, including the European Union, Australia and New Zealand have banned it, he appealed to the prime minister to stop immediately the manufacture and sale of the same.

Demanding a reversal of "pro-endosulfan" stand, six Left MPs from Kerala shot off a letter to the prime minister asking him to instruct India's representatives at Stockholm Convention to speak against the "killer pesticide" and press for a total global ban.

They alleged that the government has "unfortunately" taken a "pro-endosulfan" stand at international fora.

The six MPs, who along with other Left lawmakers protested inside Parliament House premises early on Tuesday, said thousands of people, including children, in Kerala's Kasargode are suffering due to the "evil effects" of endosulfan.

The letter was signed by P Karunakaran, P Rajeev, P K Biju, T N Seema, M P Achutan and A Sampath.

By opposing the ban, the MPs alleged that the government was "allowing" multinational companies to "plunder the country".

Addressing the protesting Left MPs, CPI(M) Polit Bureau member Sitaram Yechury said 84 countries have banned the pesticide and they are "not fools".

"We demand a nationwide ban on the pesticide. Why have 84 countries banned it? Why is the government hesitant? That is why we suspect that another scam is waiting to happen.

He said the Left was not politicising the issue as alleged by Congress. "We are just raising a humanitarian issue," he said.

The petition in the Apex Court filed by Democratic Youth Federation of India (DYFI) sought a direction to the Centre to prohibit the sale of endosulfan in its present form or any other derivatives in the market.