While funds will not be a constraint, the challenge for Aasaanjobs will be to reach out to people with no internet, says M Saraswathy.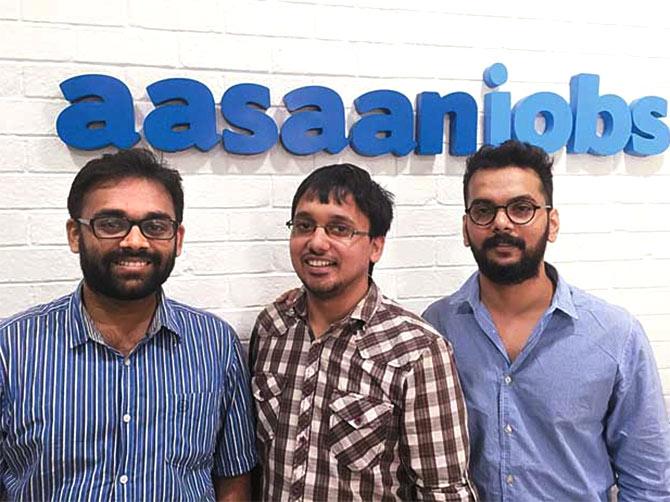 Image: (From left) Aasaanjobs founders Gaurav Toshniwal, Dinesh Goel and Kunal Jadhav.
Iqbal loves nothing more than putting on a helmet and zooming away on his motorcycle.

When he was looking for a job and was not sure whether he would get one within his salary requirement, he came across aasaanjobs.com.

The portal not only connected him with potential employers; it also helped him combine his love and work by getting him a job as a delivery boy.
Aasaanjobs, an online marketplace for entry-level jobs, provides a platform where recruiters meet job seekers.
The company's advanced, two-way matchmaking algorithm scans its database to only connect candidates whose profiles and job expectations meet client requirements, says Dinesh Goel, co-founder and chief executive officer.
Goel, an IIT Bombay alumnus, recalls conceiving it as early as 2013, along with Gaurav Toshniwal and Kunal Jadhav, also from IIT Bombay.
They recognised two recurring problems in the job market - restricted access to a trustworthy database of candidates in the entry-level and blue-collar job segments, and a highly unorganised hiring process.

Goel says this prompted them to explore creating a repository of data containing information about jobs and candidates in this segment.
Founded in November 2014, Aasaanjobs is based out of Mumbai and has around 150 people.

The start-up has received funding from IDG Ventures and Inventus Capital Partners. The platform has 180,000 candidates, with about 3,000 companies.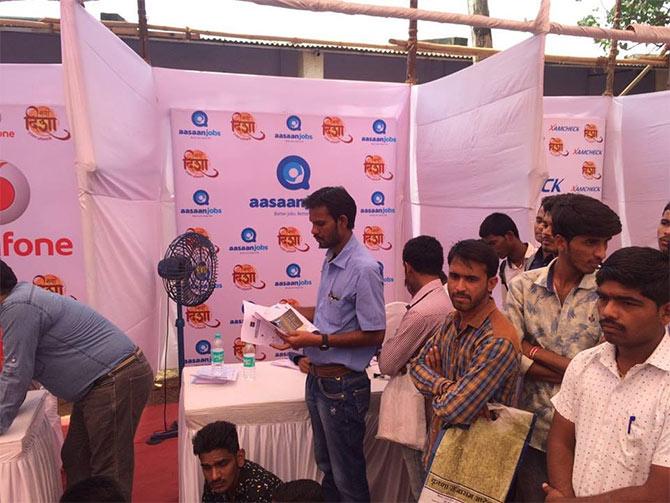 Business model
Employers have to purchase credits, based on which they can shortlist and interview candidates through a digital portal. They can choose to hire employees permanently by purchasing interview credits and shortlist candidates from a list of recommended job seekers, based on needed skills.
This means they only pay per valid interview, which reduces in-house spending on recruitment.
Its data plan, which includes unlimited job postings with a contact unlock feature, enables recruiters to access contact details of candidates and reach them directly.
Personnel agencies partnering with Aasaanjobs get special incentives to source candidates for client requirements.
Candidates can upload their CV on the website free of cost and get access to relevant jobs.
Goel says their model uses technology to make hiring hassle-free and job seeking an easy and convenient process - through its website, mobile app and WAP website.
Aasaanjobs recently raised $5 million in a Series-A round of funding, led by Aspada Advisors, with participation from the existing investors.
This was a follow-up from the seed round of $1.5 million, led by IDG Ventures and Inventus Capital, in January 2015.
Over the next two years, it plans to expand to Chennai, Hyderabad and Bengaluru. It is now present in Mumbai, Pune and the Delhi-National Capital Region.
At the time of the funding, Kartik Srivatsa, co- founder and managing partner, Aspada Advisors, had said it would be exciting to see how the team managed to mould a workplace of the future by leveraging technology.
"The unstructured nature of recruitment as a space means there is an opportunity for disruption," he had said.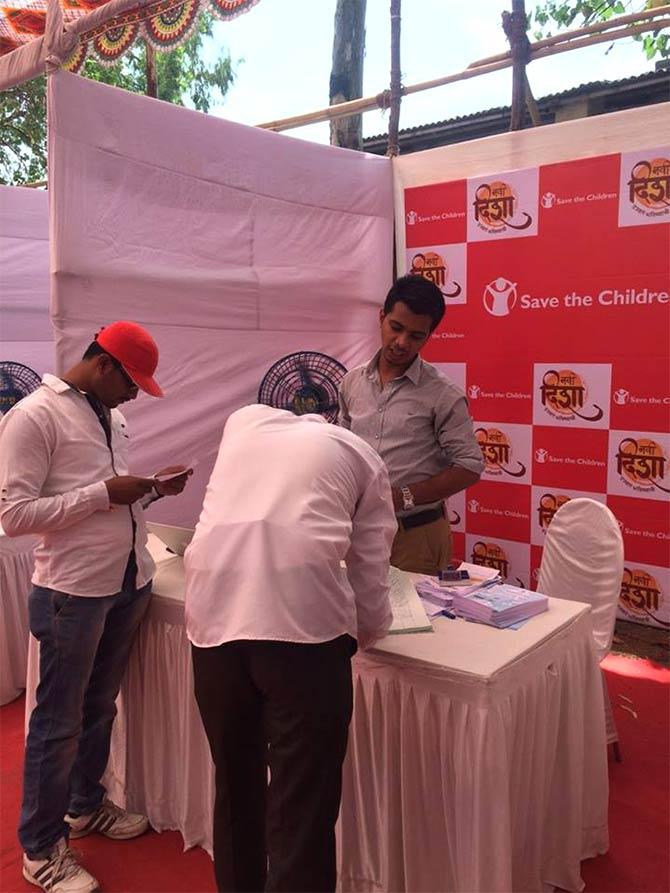 Future focus
Using the cloud for human resource services will be its focus in the near future.
While funds have been received for the purpose, experts say scaling up faster would be a challenge in a market where the unorganised workforce does not have access to the internet.
"For a company like theirs, which is online, attracting offline customers is necessary. While building physical offices in smaller towns is not feasible, they need to figure out a way to reach out to this population," says a Mumbai-based angel investor dealing with skills and personnel.
While there are many recruitment firms online, there is nobody catering particularly to blue-collar workers.
There is also an issue of gestation period as achieving break-even takes quite a long time.
However, Goel says while this is regular part of their discussions, they have accordingly structured all the allocated budgets keeping in mind the return on investment of any suggested activity or campaign.
Reaching out to the blue-collar workforce faster and being able to engage them to refer friends and acquaintances would be crucial for it to reach deeper into the market.
How quickly they are able to move from metros to Tier-II and III towns and generate value will be key to growth prospects.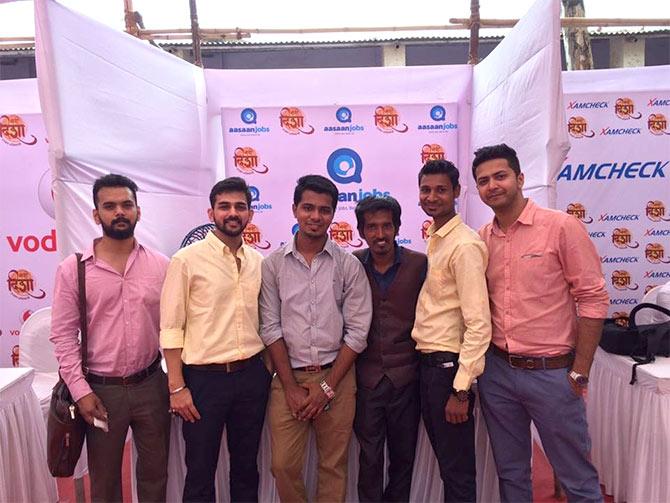 FACT BOX
Founded: November 2014
Area of operations: Platform offering entry-level, blue-collar jobs
Funding: $5 million in Series-A, led by Aspada Advisors, with participation from the existing investors
Seed round of $1.5 million, led by IDG Ventures and Inventus Capital, in January 2015.
Presence: Mumbai, Pune, Delhi-NCR
EXPERT TAKE
Growth in the economy is influencing the buying power of consumers and a large population base has been facing a mismatch of labour requirement vs resource availability. Strong collaboration tools are needed to bring the blue-collar job seekers, as well as companies and SMEs together, to fulfil the need and requirements, largely controlled and monitored by unstructured contractors and petty vendors from small cities and villages.
The major challenges for hiring these skills are the availability of resources, willingness and skills to execute the job and continuity of the employment as poaching continues due to less availability vs demand of these resources. At the same time, job seekers get exploited by contractors as they hardly know whom to approach and where for jobs.
A strong authentication process of the job seekers and employment meeting the minimum payout and compliance criteria's checks will be required to increase the authenticity of the platform. The approach needs to be different, as most of these categories are still not very handy with internet-based tools and technologies. But, there is a huge potential with millions of population in this segment and it is at least 20 times bigger than the professional job market.
Sunil Goel is MD GlobalHunt.