Image: People attend the annual Dussehra celebration in Mysore. Photograph: Jagadeesh Nv/Reuters
The January 2016 survey looked at only 73 cities.
Mysuru continues to be the cleanest city in India, followed by Chandigarh, Tiruchirapalli, New Delhi Municipal Council, Visakhapatnam, Surat, Rajkot, Gangtok, Pimpri-Chinchwad and Greater Mumbai in that order, according to a survey conducted by the Quality Council of India.
Varanasi, the Lok Sabha constituency of Prime Minister Narendra Modi, has been ranked among the least clean cities in India 65th among the 73 cities surveyed.
It has also been categorised as a 'slow mover' with a score of less than 50 per cent.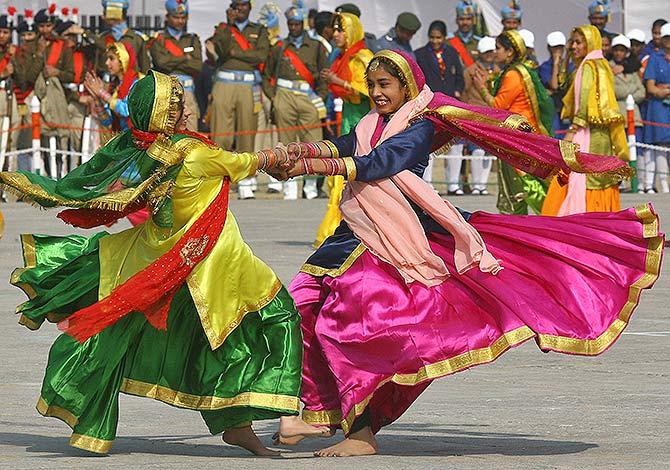 Image: Dancers perform during the Republic Day celebrations in Chandigarh. Photograph: Ajay Verma/Reuters
In a previous survey conducted during 2014, before the launch of Swachh Bharat Mission, results for which was announced in August 2015, Varanasi was at the bottom of the list and was ranked 418 out of 476 cities surveyed.
The January 2016 survey looked at only 73 cities.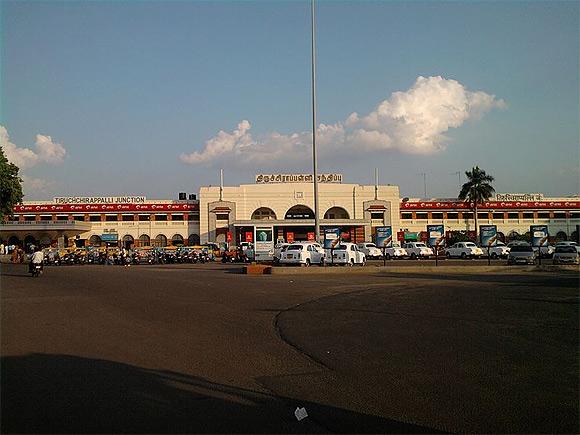 Image: Tiruchirapalli railway station. Photograph: Kind courtesy, Balajijagadesh/Wikimedia Commons
As the base sample has been reduced drastically in the latest edition, a real comparison of ranks is not possible.
However, the urban development ministry has compared scores and ranks of the two surveys to assess the impact of the Swachh Bharat Mission, a key objective of the initiative.
While the 2014 survey looked at all 476 cities with population of more than 100,000, it was seen as a heterogenous sample.
In 2016, the idea was to consider cities that were comparable.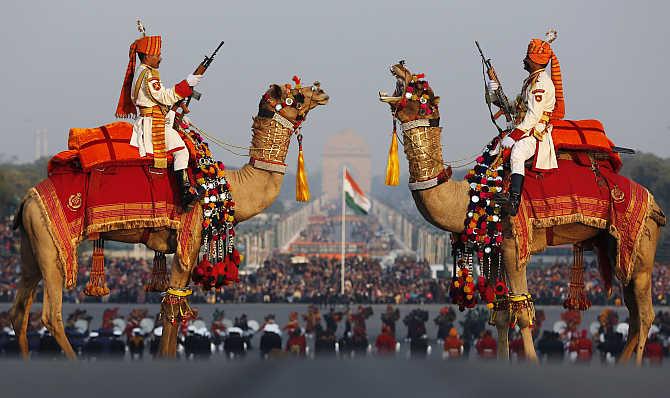 Image: Border Security Force soldiers ride their camels as they rehearse for the 'Beating the Retreat' ceremony in New Delhi. Photograph: Adnan Abidi/Reuters
Even as it sought to cover 53 cities with population of over a million and 22 capitals with less number of people living there, Noida and Kolkata dropped out of the survey as they wanted to participate after a year.
Besides Varanasi, others in the bottom 10 this year are Kalyan-Dombivli, Jamshedpur, Ghaziabad, Raipur, Meerut, Patna, Itanagar, Asansol and Dhanbad, which is ranked the lowest at 73.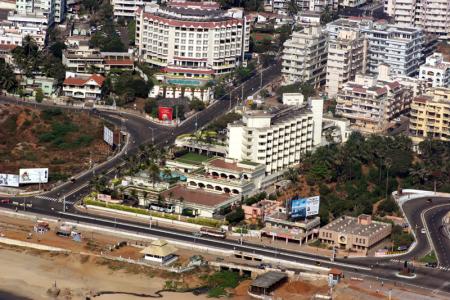 Image: Visakhapatnam city. Photograph: Kind courtesy, Wikimedia Commons
Meerut is the only one to have figured in both the 2014 and 2016 list of bottom 10 if the same 73 cities are taken into account.
In 2014, others in the bottom list among these 73 cities were Nagpur, Cuttack, Kota, Gwalior, Gurgaon, Amritsar, Allahabad, Dehradun and Faridabad.
Result of Swachh Survekshan (cleanliness survey) was announced by minister of urban development M Venkaiah Naidu on Monday.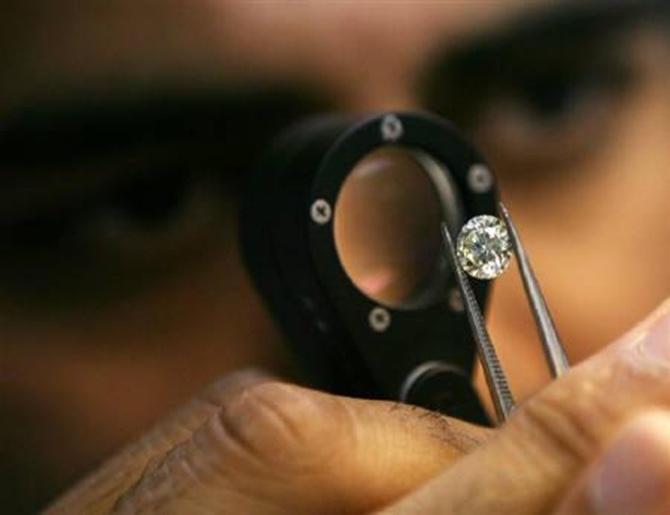 Image: A diamond businessmen demonstrates a process at a diamond cutting and polishing factory in Surat. Photograph: Arko Datta/Reuters
When compared with a survey conducted in 2014, four cities have improved their ranks to get into the top 10 this year.
These are Visakhapatnam (which has climbed from 44 to 5), Surat (from 12 to 6), Rajkot (from 32 to 7), and Gangtok (from 16 to 8).
Significantly, two new leaders in the list are from Gujarat.
In fact, two more cities in Gujarat have climbed-Vadodara from 31st to 13th and Ahmedabad from 25th to 14th.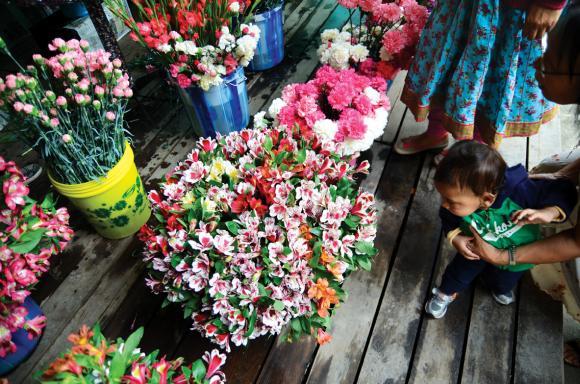 Image:

A curious child looks at a bucket of flowers at the second international flower show organised in Sikkim.

Photograph: Rediff Archives
The January 2016 survey looked at only 73 cities.
The top 10 in 2014 were Mysuru, Greater Mumbai, Tiruchirapalli, Chennai, Pune, Navi Mumbai, NDMC, Nashik, Pimpri Chindwad and Chandigarh.
Navi Mumbai, Chennai, Pune and Nashik have fallen out of the top 10 in 2016.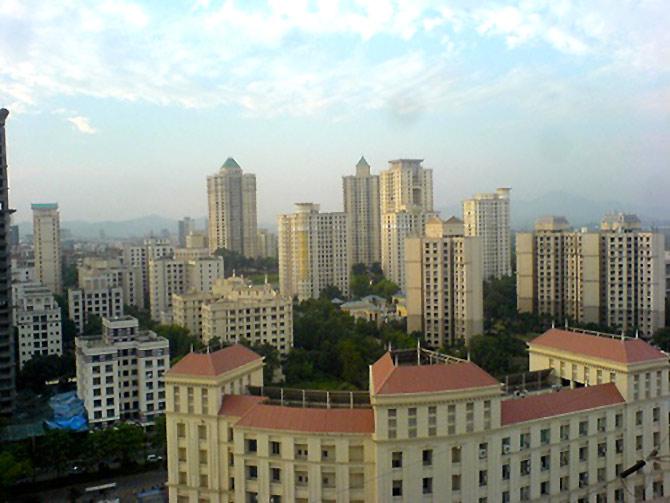 Image: Thane. Photograph: Mehulsg/Wikimedia Commons
Apart from Mysuru, cities that have retained their 2014 ranks are Tiruchirapalli at number 3, Pimpri Chindawad at 9 and Ludhiana at 34.
Of the total marks of 2,000 based on weightages for different components, Mysure scored 1,749 (87.45 per cent) while Dhanbad at the bottom rank of 73 scored 464 marks (23.20 per cent).
Naidu said Swachh Bharat Mission's impact is showing as scores of cities have improved rankings when compared with the 2014 survey.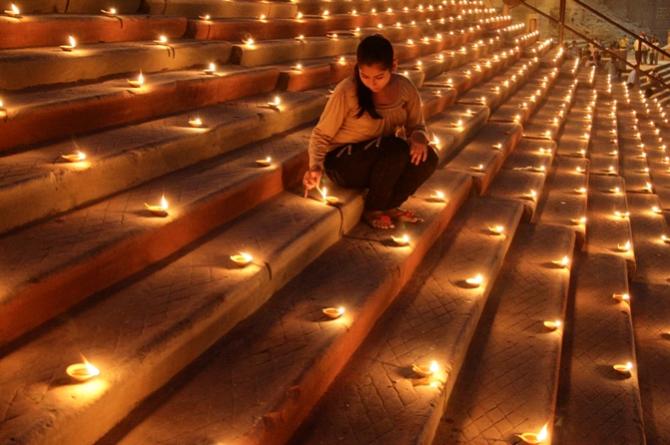 Image: A Hindu devotee lights an earthen lamp on the steps of Sindhiya Ghat during the Karthik Purnima and Dev Diwali festival in Varanasi. Photographs: Jitendra Prakash/Reuters
The top 10 movers are Allahabad (rank 67 to 22), Nagpur (60 to 20), Visakhapatnam (44 to 5), Gwalior (64 to 30), Bhubaneswar (56 to 24), Hyderabad (50 to 19), Gurgaon (65 to 36), Rajkot (32 to 7), Vijayawada (46 to 23) and Lucknow (51 to 28).
The biggest losers are Jamshedpur (13 in 2014 to 66 in 2016), Kochi (15 to 55), Shillong (18 to 53), Chennai (4 to 36), Guwahati (19 to 50), Asansol (42 to 70), Bengaluru (11 to 38), Ranchi (35 to 62), Kalyan Dombivilli (39 to 64), Nashik (8 to 31).
The scores were based on parameters such as infrastructure, service, individual and public toilets, solid waste management, deployment of men and machines, behaviour changes and impact of Swachh Bharat Mission.