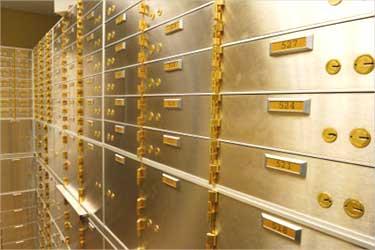 For the past two months, Rashmi Sinha, resident of Vashi (Navi Mumbai), has been trying to rent a bank locker. However, she has not been able to find one of her choice.
The cheapest – the size of a pigeon hole - comes with an additional fixed deposit of Rs 25,000. The most expensive entails a Rs 4 lakh fixed deposit.

She says she doesn't mind the fixed deposit per se, provided there is perpetual tenure for the locker. But one banker clearly told her that the day she breaks the deposit, she will lose the locker.
A leading private bank even tried to sell her an insurance policy with a premium of Rs 5 lakh to be paid in 10 instalments over 10 years. "The document the bank gave showed it as a recurring deposit. But the riders in the scheme clearly indicated it was an insurance-cum-investment plan," says her husband Vineet.
And bankers are not cagey about it. "If the customer agrees to making a deposit over a savings bank account, the deposit amount should be at least Rs 3 lakh. Otherwise, it does not make business sense to the bank," says a senior official at Oriental Bank of Commerce.
Explains R S Sangapure, general manager (retail) at Central Bank of India, "The Reserve Bank of India's (RBI) guidelines do not deny locker facility to those who are not a customer. But, a bank asks such customers to open a savings account. This is because opening a savings account helps complete the know-your-customer (KYC) norm. Also, a savings account at the branch makes it easy (for the bank) to collect annual charges." 
However, even if you agree to the bank's conditions, you may still not be able to find a desirable locker. This is because getting a bank locker has become difficult, especially in the metros.

Public sector banks, which hold the majority of lockers, have exhausted a large part of it. "Space has become another issue, hence the availability of locker across branches vary. Banks don't have too many lockers in their South Mumbai branches. And there is no space to provide new ones. But branches in suburbs have higher number of lockers and so do those in smaller cities," says R K Bansal, executive director, IDBI Bank.
Suburbs in metros may not always be of help as metros are spreading fast and there are space constraints. The space issue has also contributed to higher rentals for lockers. According to experts, in the past year, locker charges have increased between 25 and 70 per cent, depending on size and location.
Private lockers
The other option could be private sector banks. But there is a wide disparity in locker fees between public and private sector banks. For instance, the rental prices for a medium-sized locker in a public sector bank can be Rs 2,500-3,000 a year. In comparison, a private sector bank may charge up to Rs 20,000.
Typically, banks ask for a caution deposit worth three years of locker rent. Banks also charge service tax and an amount for emergencies (when the bank has to break open the locker if you lose the key).

Bankers suggest becoming a high-end or preferred customer, if you can. But such customers are charged a bomb for facilities such as 24x7 access, 5-10 times the price of regular lockers. This facility is available in select branches and can cost Rs 15,000-45,000, depending on the size.

Although you would prefer lockers in branches in and around your house, it is advisable to instead look for new bank branches. Because, in order to get footfalls, these branches may not only provide a locker immediately but also waive off the security deposit (sometimes up to 50 per cent). Or, you could pay locker rental in advance for 10-15 per cent lower rent or security deposit.
It would be difficult to gauge the cost of lockers before zeroing down on a bank. Bank representatives or call centre executive never part with this information till you visit the branch.
Then, there are alternatives to bank deposit lockers. Examples are private companies such as India Safety Vaults (present in Mumbai and Pune) and Navketan Lockers (Hyderabad and Mumbai). According to an India Safety Vaults' executive, the company provides lockers in nine different sizes, A-type to L-type. You will be charged Rs 21,796 for three years for an A-type locker and Rs 59,000 a year for an L-type.
Navketan Lockers' charges for A to L-type can either be paid for one year, three years or five years. The annual charges for A-type lockers is Rs 6,545 inclusive of service tax and caution deposit, while for the L-type locker it would be Rs 29,467 inclusive of service tax and caution deposit (source: company website).
As Harsh Roongta, CEO of Apnapaisa.com, puts it, "Locker business runs on trust, which is more for banks than private companies. That's why private companies have not been an instant success. Importantly, private company lockers cost more than that of private banks." Private companies also do not insure the lockers, which banks do.
According to RBI guidelines, demanding a deposit or levying insurance charges to rent out a locker is a restrictive trade practice. And new customers (only new ones) can complain to the apex bank and the head office of the bank where one applied for a locker.

The regulator also says banks should maintain a wait list of applicants for lockers, give them a number and ensure complete transparency in the allotment of lockers. However, experts say while banks will try and squash the charges, RBI's redressal system can be frustratingly slow.