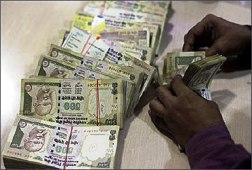 The rupee on Wednesday rose by 33 paise to touch a three-week high against the dollar at 54.35 on firm foreign fund inflows, after US lawmakers passed a bill which has averted the 'fiscal cliff'.

Forex dealers said sustained selling of the American currency by exporters and bullish local equity markets buoyed the rupee sentiment.

The local currency started the day higher at 54.42 at the Interbank Foreign Exchange market.

It hovered in a range of 54.27-54.54 before settling at 54.35, a gain of 33 paise, or 0.60 per cent, against the dollar.

Yesterday, rupee had gained 31 paise to hit a two-week high of 54.68 against the US currency.

"The US averted the fiscal cliff after the House of Representatives passed
a legislation, which increased foreign fund inflows into emerging economies, including India and it has boosted the local equities.
"This has in turn buoyed rupee amid sustained offloading of dollar," IDBI Bank Head (Treasury) N S Venkatesh said.
The US House of Representatives late Tuesday night passed the "fiscal cliff" bill, ending a dramatic New Year's Day showdown over income taxes and deep federal spending cuts.
The bill, which was passed by the Senate (89 to 8 votes) in the wee hours of the New Year, would now go to the White House for US President Barack Obama to sign into law, which would end months of anxious moments with regard to fiscal cliff.
Foreign institutional investors pumped in nearly $204 million (Rs 1,107.67 crore) into the stock markets today, according to provisional BSE data.