The Supreme Court on Thursday extended till June 19 the parole of Sahara chief Subrata Roy with a warning that failure to meet the deadline of June 15 for the payment of Rs 1,500 crore would land him in prison once again.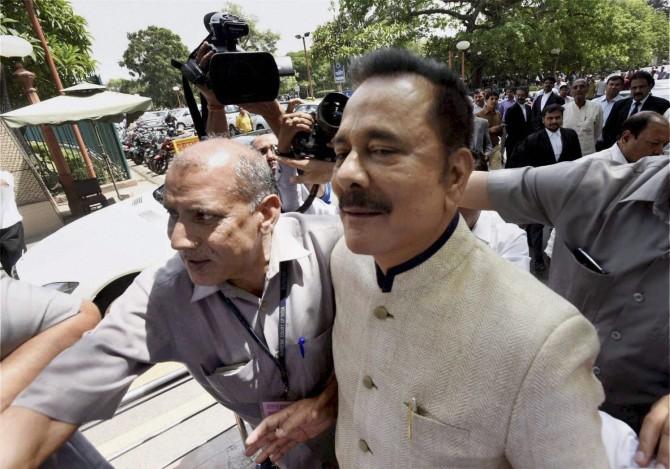 Image: Sahara chief Subrata Roy being produced at the Supreme Court of India, in New Delhi, on Thursday. Photograph: Vijay Verma/PTI Photo.
Roy, who in compliance with the last order appeared before the court, was told by the apex court that he has to frequently make the payment as per the roadmap approved by the court or face further imprisonment.
The Sahara chief gave an undertaking to a bench headed by Justice Dipak Misra that he would deposit Rs 1,500 crore by June 15 and another payment of Rs 552.22 crore by July 15 in the SEBI-Sahara account and filed an affidavit.
The apex court warned Roy that he may be sent to jail again if the amount was not paid.
The bench, which also comprised Justices Ranjan Gogoi and A K Sikri, also ordered the arrest of Chennai-based journalist Prakash Swamy, who failed to deposit Rs 10 crore as per the last order. He will serve a one-month jail sentence for contempt of court.
Swamy had filed an affidavit on behalf a foreign firm expressing his intent to buy Sahara's New York-based hotel.
He had failed to comply with the apex court's direction to show his bona fides by depositing the amount in court to establish his intention to buy the property.
The bench allowed the Sahara group to make electronic payment through RTGS in the Sebi-Sahara account on or before June 15.
The apex court also asked Roy to remain personally present on June 19, the next date of hearing.
It asked the official liquidator of the Bombay high curt to prepare terms and conditions for auctioning the AambyValley property for its approval on June 19.