'Onion supply to mandis has declined due to its lower availability.'
Dilip Kumar Jha finds out why onion prices have hit the highest in two years.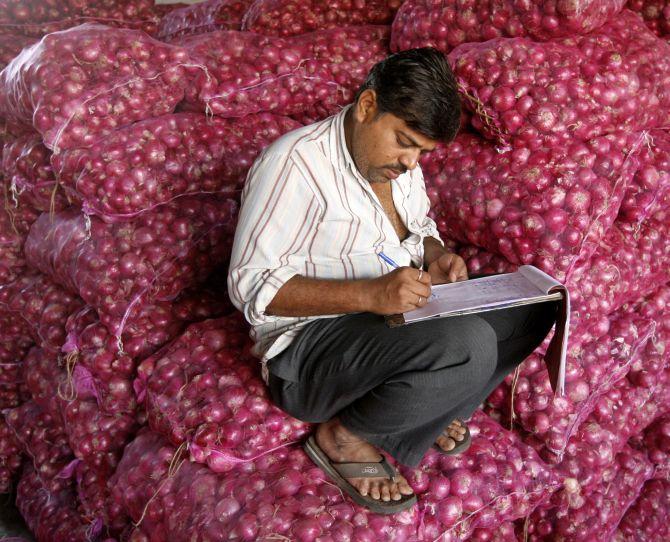 IMAGE: Many believe that onion prices are unlikely to come down for the next two months due to supply issues. Photograph: Amit Dave/Reuters
Onion prices have quadrupled in the past two weeks due to lower supply, as farmers and stockists held their inventory on expectations of a further price spike.
As the Nashik farmers are shifting to other horticulture crops, including grapes, pomegranate, the crop size prospects have lowered in the ongoing Kharif sowing season.
This has pushed up onion prices since the second week of July.
Data compiled by the National Horticultural Research and Development Foundation showed onion prices in Lasalgaon hit the highest in two years of Rs 26.60 a kg on Thursday, August 3, before moderating abysmally to trade at Rs 24 a kg (of export quality).
The model price, however, closed at Rs 21.60 a kg in Asia's largest onion mandi on Friday, August 4, compared to Rs 6.80 a kg just two weeks ago.
There are two primary drivers to the onion price hike.
Firstly, assuming that the government would not let its price go up, many farmers sold a large quantity of the stocks at a price between Rs 5 and Rs 5.50 a kg, the price level onion maintained over the last two years barring sporadic rise and fall.
Hence, its supply in the mandi declined sharply over the last two weeks.
NHRDF data showed onion arrivals in the Lasalgaon mandi declining to 2,000 tonnes on August 4 from the level of 2284.5 tonnes on July 21.
"Onion supply to mandis has declined over the last two weeks due to its lower availability with farmers and stockists. This scenario is likely to continue for at least six weeks by the time the early harvested crop from the south hits mandis," said Ajit Shah, president, Horticulture Exporters Association.
Secondly, a number of farmers have shifted to other remunerative crops, including grapes and pomegranate.
Farmers have invested immensely in field preparations for other horticulture crops. Consequently, acreage under onion is likely to remain lower this year.
Apart from that, heavy rainfall and flood in states like Gujarat and Madhya Pradesh have rotten massive stocks resulting in the country's demand pressure coming in on the inventory in Maharashtra alone.
"Our realisation was inadequate to meet the cost of cultivation. Hence, onion farmers did not get any return over the last two years. We, therefore, had no option but to change to other crops," says Arjun Kadam, a farmer in Lasalgaon, Nashik, Maharashtra.
"We had 14 acres of land under onion two years ago; out of which we have now planted grapes and pomegranates in six acres. This means, our onion acreage declined by 40 per cent," adds Kadam.
"We are not alone in this crop shifting. Most onion farmers in Nashik have shifted a part of their land holding to other remunerative crops from onion earlier. Thus, overall sowing area under onion is set to decline this Kharif season," he says.
Experts estimate 40 per cent of the sowing area under the Kharif season while the early-Kharif and Rabi contribute 20 per cent and 40 per cent of overall annual acreage under onion in India.
Farmers who shifted to long tenure crops like grapes and pomegranates are unlikely to come back to sow onion anytime soon.
According to the Agricultural and Processed Food Products Export Development Authority, Maharashtra tops the list in onion production with an annual share of 27.72 per cent of India's overall output.
The agriculture ministry in its second advanced estimates has projected India's onion output at 21.56 million tonnes for 2016-2017 compared to 20.93 million tonnes in the previous year.
Total annual acreage under onion, however, reported a decline to 1.27 million ha for 2016-2017 compared to 1.32 million ha for the previous year.
Atul Shah, director of the Pimpalgaon APMC, believes that onion prices are unlikely to come down from the current level for the next two months due to supply issues.