She pocketed Rs 9.12 crore as remuneration in FY16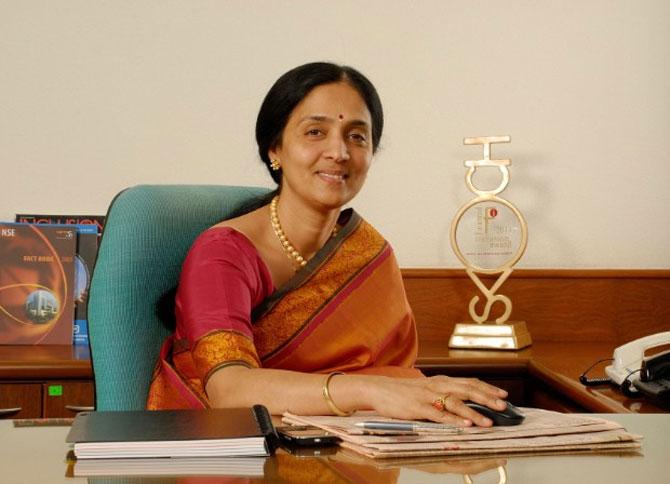 Chitra Ramkrishna, managing director & chief executive officer of the NSE, was the highest-paid executive among salaried women in financial year 2015-16.
She pocketed Rs 9.12 crore as remuneration in FY16, an increase of 23 per cent over her previous year's salary of Rs 7.4 crore and more than twice her pay of Rs 4.46 crore in FY14.
Ramkrishna has beaten other women from the financial services industry such as Axis Bank MD & CEO Shikha Sharma (Rs 5.4 crore), ICICI Bank MD & CEO Chanda Kochhar (Rs 4.8 crore) and State Bank of India Chairman Arundhati Bhattacharya (Rs 31 lakh) in FY16. Kochhar's salary, in fact, declined by 18 per cent over the previous financial year.
Ramkrishna was the second-highest paid executive in the financial services industry, second only to Aditya Puri, MD of HDFC Bank, who took home Rs 9.7 crore in FY16. Her salary was almost thrice that of Ashishkumar Chauhan, who heads the BSE, NSE's chief rival, who earned Rs 3.3 crore.
To be sure, Ramkrishna may not be the highest earner despite topping the salary charts. This is because bourses are not allowed to give stock options, unlike banks or other financial services sectors.
For instance, HDFC Mutual Fund MD Milind Barve's total earnings for FY16 amounted to Rs 26.21 crore, which included Rs 6.25 crore as salary and Rs 19.96 crore in Esops (employees' stock option plans) that were exercised.
Another case in point is Sharma of Axis Bank who has been granted 6.4 million stock options in various tranches since her appointment as MD & CEO of the bank. This may add to her earnings as and when the options are exercised.
If one takes into account women who are part of the promoter group, three other women come ahead of Ramkrishna. The list is headed by Kavery Kalanathi of Sun TV who earned over Rs 71 crore in FY16, followed by Vinita Gupta of Lupin (Rs 19 crore) and Dipali Goenka of Welspun India (Rs 9.9 crore).
In fact, most of the top salaried women within the listed universe include those who belong to the promoter group.
Photograph: Kind courtesy, NSE