Reliance Industries on Thursday said it is not seeking an increase in current price for KG-D6 gas and has only sought clarity from the government on rates that will apply upon expiry of current price in April, 2014.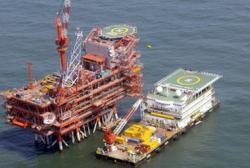 "For the last six months, RIL has been seeking approval from the Government, but not for increasing current gas prices. Rather it has been seeking clarity on the basis of gas pricing that will be adopted post March 2014," company executive director P M S Prasad said.

The government had in 2007 approved $4.205 per million British thermal unit as the price of KG-D6 gas for first five years of production. KG-D6 began pumping gas from April, 2009.

Prasad said the formula used to arrive at the current gas price was submitted to the government for approval in April 2007, a full two years before the gas production commenced.

The government slightly modified the formula and approved a price of $4.2 per mmBtu in October. RIL's request for a new price for KG-D6 from April 2014 follows the same pattern of giving time to the government to debate and decide.

"To make investment decisions to bring gas from new developments after 2014, it is necessary that approval
for gas prices are similarly obtained now," Prasad said. "This clarity is required because the contractor partners have to make significant investments to develop various new discoveries."
Dismissing reports that RIL is seeking a three-fold hike in gas price, he said, "Some vested interests were trying to create a needless controversy on the issue."
Prasad said as per the Production Sharing Contract (PSC), RIL is contractually bound to sell all gas produced from the block at arms-length prices to the benefit of all the parties to the PSC.
"In early 2012, arms-length prices for gas in the country were higher than the price approved by Empowered Group of Ministers (EGoM) in 2007. RIL was receiving numerous offers from buyers seeking to purchase gas at prices higher than those approved," he said. "As per the provisions of the PSC, RIL was constrained to bring the willingness of buyers to pay higher gas price, to the notice of the government and seek its directions."
But since then the company has not been pushing for any revision in rates before expiry of current prices in end of March 2014.
"The price of gas determines not just the share of the contractor but also the revenues flowing to the Government as royalty, profit share and taxes," he added.