L P Prasad (49 kg) clinched the only gold for India at the 33rd International Tammer Youth Boxing Tournament, beating England's Jack Bateson in the final, in Tampere, Finland.
The 17-year-old put up a sterling performance to emerge victorious and bag his first international medal.
Dheeraj Singh (52 kg), the other Indian to figure in the finals, however, had to make do with a silver medal after losing out to Elie Konki of France.
Prasad entered the final after ousting Welshman Ashley Williams in the semi-finals.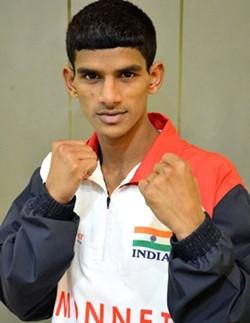 In the final, Bateson, a European Youth Championship quarter-finalist, did not allow the Indian to set the early pace. After the opening three minutes of play both boxers ended up with three points apiece.
In the second round, though, Prasad penetrated the sound defence of the English boxer with cracking combinations to take a slender lead (8-7).
In the final round, he launched an all-out offensive and took the game away from his opponent to win his first international gold medal with an overall score of 14-10.
"It was a tough fight but I stuck to my strategy and played my natural game, and in the end it paid off pretty well. It was a proud moment for me to hear the national anthem being played at the medal ceremony," stated Prasad, after winning the title.
"I am happy with my performance in the tournament; plus, winning the gold will be a big motivating factor in the upcoming Youth World Championships," Prasad added.
Unfortunately, Dheeraj was not able to replicate his teammate's success, but put up good fight in the final of the flyweight category.
A bronze medal winner at the 2011 Agalarov Cup in Azerbaijan, Dheeraj matched the French boxer punch for punch in the beginning. But Konki's superior power-play gained him the advantage as the bout progressed.
Dheeraj tried hard to stage a comeback, but the Frenchman was up to the task, and did not give up the advantage.
In the end, the Indian boxer lost the championship bout 11-17.
Coach G Manoharan was extremely pleased with the way Prasad fought throughout the tournament.
"Prasad's ability to measure his opponent and adapt his game accordingly is something that makes him an asset for the Indian youth team. He has shown great promise and has the potential to go the distance.
"I am looking forward to see him perform at the Youth World Championships later next month, which will be a good test of his skills," he said.