This crisis has arisen just as demand in India's auto sector started seeing some sort of revival after the nationwide lockdown in March/April.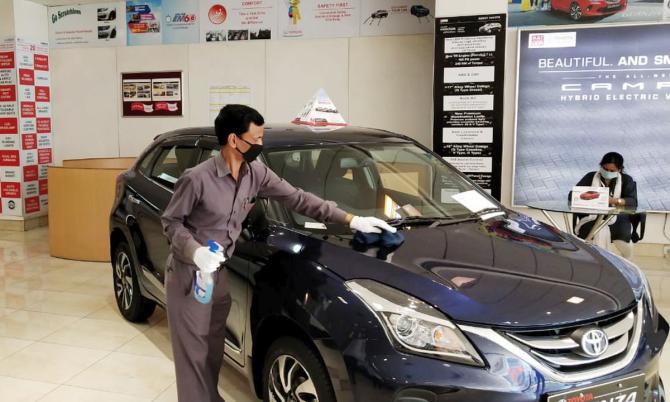 An uneasy calm pervades the production facility at Toyota Kirloskar Motor (TKM) in Bidadi, 32 km from Bengaluru.
The reason: A lockout that has been imposed by the management since November 10 over workers who went on strike citing overwork.
Labour unrest is not new to this 23-year-old plant -- there have been at least four since it was set up, with one lockout in 2014 stretching for over a month.
"This, even as Toyota's India subsidiary is known for being one of the best pay masters," said B C Prabhakar, labour law and industrial relations expert, also a president of Karnataka Employers' Association.
Still, the current worker-management stand-off comes at an inopportune time for TKM.
Since November 10, the assembly lines of the two facilities in Bidadi have been functioning at less than a fourth of capacity with the 3,500-odd workers who are part of the union -- they comprise a little over half the total workforce of 6,600 -- having struck work.
This crisis has arisen just as demand in India's auto sector started seeing some sort of revival after the nationwide lockdown in March/April.
The maker of Innova and Fortuner models dispatched 8,508 units to its dealers last month, a year-on-year growth of just 2.4 per cent.
But for the supply of some models by Maruti Suzuki India (MSI), India's largest car-maker, the disruption at the factory would have hurt TKM even more. (As part of the global alliance between Toyota Motor Corp and Suzuki Motor Corp, MSI supplies Baleno and Brezza models to TKM, which the latter sells under Glanza and Urban Cruiser brands. The two models account for half of TKM's sales.)
The local arm of the Japanese carmaker controls less than 5 per cent of India's competitive passenger vehicle market.
At the core of the crisis is the globally venerated Toyota Production System (TPS), which TKM always followed but which is now under attack by the workforce.
"The union has been going around discrediting the TPS. Toyota runs 57 plants globally and nowhere has it seen this kind of hostility," said a company official declining to be identified.
But the TKM Employee Union (TKMEU) alleges that the management has been "changing the production norms without any study and without any consultation with the recognised trade union".
The changes in workload, a TKMEU statement said, has been "on the higher side without conducting any scientific study and discussion". This in turn has disrupted workers' "work-life balance".
As demand revived, TKM upped production month-on-month since August. It produced 6,600 cars in October 2020, up from 4,055 units it produced in August 2020, according to data compiled by JATO Dynamics. Though that's a steep jump on a sequential basis, the plant has yet to match the last year's levels when it produced 8,419 units in August 2019.
"It's perfectly possible that the management would have tried to increase the workload by intensifying production to make up for revenue and bottom-line loss that has happened in the recent past due to the pandemic," said K R Shyam Sundar, professor of human resource management at XLRI and XIM.
A TKM spokesperson refuted the union's argument. "A ramp-up in production is a scientifically designed planned activity and requires multiple trials to be conducted at different levels before finalising the manpower required for eventual ramp-up," an official statement said.
Based on market demand and business forecast, production takt time (the rate at which a model has to roll off the assembly line to meet customer demand) is modified and an increase in manpower required is also considered in case of an increase in production.
According to the spokesperson, the same number of members would not be requested to work more since each process is scientifically designed so that working hours remain the same for the workers.
According to TKMEU, the issue of workload had been bothering workmen since July 2019 and the latter brought it to the management's notice through a note that, it says, was dismissed by the company in a "flippant manner".
TKM's management and the union signed an agreement in 2016 that determined the number of working hours and working days for the years 2017, 2018 and 2019. This settlement has been followed in 2020 but the union says it does not prescribe work load or work norms.
The company spokesperson dismissed the allegations and added that while the TKM management and union had signed an agreement for a five-day work week in December 2016 -- the lowest among car manufacturers, he said -- it was terminated by the former when the union declined to work on Saturdays when market demand improved.
The factory had been closed for almost two months during the national lockdown. When requested to support the company by working Saturdays to clear the backlog when the lockdown ended, the union declined.
Matters appear to have escalated, with the management pointing to misbehaviour by one of the union office-bearers who was suspended pending an inquiry. This precipitated the strike.
"The union has been complaining of workload. But most of their issues are imaginary," Prabhakar contended. "TKM has to follow the standards it follows elsewhere; it cannot dilute global standards for this market. But the workers are not on the same page. So there are bound to be differences," he added.
Meanwhile, TKM has informed union members to submit a simple undertaking for a good conduct and report to work. So far, some 600 members have signed and reported back to work.
Whether this reconciliatory approach will solve a chronic problem at Bidadi is an open question. Labour unrest appears to be embedded in the work intensification model that auto companies follow. As Sundar pointed out, Honda Motorcycle and Scooter India in 2004 and Maruti Suzuki in 2012 saw unrest, when a similar model was adopted.
Significantly, demand-led work intensification is a key aim of the new labour reform laws.
"Unfortunately, this is gaining traction and being favoured by the labour experts and even law makers. This is a cause for concern, and doesn't even lead to increase in productivity," Sundar pointed out.
Though the issue at the heart of the management-worker stand-off is not new, TKM could become a test case for India's labour reform programme now.