No business delegation has been cleared yet for Prime Minister Narendra Modi 's visit to America from Friday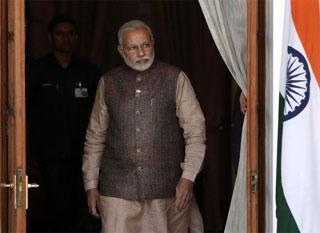 Representatives of some business houses said there might not be anyone taken from India Inc, as it's more of a political visit by Modi. Others were more hopeful, saying the list of industrialists was being vetted by the PM himself and would be made public closer to travel. There was no confirmation from the government on the matter.

The Japan experience, where Reliance Industries chairman Mukesh Ambani had withdrawn from the delegation believed to have been selected by the PM, might also have prompted the government to do things differently this time, a source said. The list of chief executives, learnt to have been changed by the Prime Minister's Office (PMO) after business chambers sent the names, became a talking point at the time.

The PMO had cleared the names of a dozen-odd business chiefs, including Ambani, Sunil Mittal, Gautam Adani, Azim Premji, Kiran Mazumdar-Shaw, Chanda Kochar, Shashi Ruia and Dilip Shanghvi.

Soon after Modi's trip to America, Finance and Defence Minister Arun Jaitley is scheduled to travel there and to Britain from October 8. Several business heads are likely to be there for the investor meets Jaitley will attend. According to a source, the government might prefer to keep Jaitley's visit business-heavy, rather than Modi's.

Even
as India Inc has been kept guessing, interactions have been readied between Modi and American business bosses. Media reports suggested around 10 chief executives, including Ginni Rometty of IBM, Jeff Immelt of GE and Marilyn Hewson of Lockheed Martin, will have a breakfast meeting with Modi in New York. Some one-on-ones have also been fixed.
That apart, the US-India Business Council is hosting a reception for Modi at Andrew Mellon Auditorium in Washington DC, where chiefs of American companies, Wall Street businesses and investors will be in attendance. Then, the Indian-American community has organised a reception at Manhattan. All this is besides Modi's UN General Assembly address and meeting with President Barack Obama. He will also attend a White House dinner.
The political implication of Modi's visit to the US assumes greater significance as he was denied a visa to the country after the Gujarat riots of 2002.
A day ahead of his departure to America, Modi will have an interface with industry here when he launches the "Make in India'' mission, first announced in the PM's Independence Day speech. Sidharth Birla, president of the Federation of Indian Chambers of Commerce and Industry, part of the strong industry presence at Vigyan Bhavan here on Thursday, told Business Standard that "Make In India" was about inviting the investor community on the whole, and should not be interpreted as a signal to the US alone, ahead of the PM's visit.