Gujarat Chief Minister Narendra Modi will be on a five-day tour to Japan from Sunday to expand business ties with that country and will also meet auto major Maruti Suzuki's top brass, official sources said.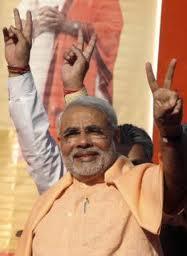 Modi, who will be accompanied by a business delegation, will visit Hamamatsu to meet Maruti Suzuki Corporation managing director Shinzo Nakanishi.

He is visiting Japan at a time when Maruti Suzuki's plant at Manesar (in Haryana) is facing tense industrial relations.

Two days ago, a senior management official was charred to death after violence erupted in the Manesar plant. Two Japanese nationals were also injured in the scuffle.

Even though the Modi-led delegation will not pitch for expanding the production capacity of the company in Gujarat, if the company on its own decides to expand its production capacity, it is welcome, Gujarat officials said.

"The view of the Gujarat government is very clear on attracting corporates in the state. We do not want to harm anybody's interests. However, whosoever wants to come here and expand his production capacity is welcome," Gujarat Principal Secretary Industries Maheshwar Sahu told PTI.

Modi's visit to Japan, however, has sparked off speculation that during his meeting with the Maruti Suzuki representatives, he would try to convince them to expand the carmaker's production capacity in Gujarat from the proposed 2,50,000

units annually.

Maruti Suzuki has already proposed to invest Rs 4,000 crore (Rs 40 billion) in Gujarat to set up a green field project, having an annual production capacity of 2.5 lakh cars near Becharaji in Mehasna district.

"Modi has been officially invited by the government of Japan. Normally, they invite the head of country, but Modi being the chief minister of a state in India, is going to Japan as a state guest," official sources said.

Besides Hamamastu, Modi will be visiting Tokyo, Osaka, Nagoya and Kobe prefectures of Japan. He will be addressing three seminars, one round-table and also interacting with top functionaries of Japanese government during the visit, they added.

Modi will also be travelling by a bullet train and study the reconstruction done by that country following the earthquake in Kobe prefecture, they added.

This visit is likely to be Modi's last foreign trip before the state elections scheduled to be held in December this year.

The purpose of the visit is to expand business ties between Gujarat and Japan, official sources said, adding that the large area of Delhi-Mumbai Industrial Corridor (DMIC) passes through Gujarat and the state sees huge potential of investment from Japan.

Japan had also partnered last year in the biennial 'Vibrant Gujarat Global Investor Summit', they said.