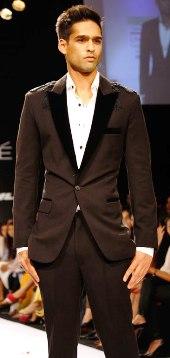 Sidhartha Mallya, son of Kingfisher Airlines' chief Vijay Mallya, is looking for a brand that would like him to endorse it. This was six months after he signed up celebrity management firm KWAN Entertainment & Marketing Solutions in April this year.
KWAN was in talks with a few clients in luxury and lifestyle space for  Mallya junior. "We signed Sidhartha Mallya to exclusively manage and represent brand Sid.
"We are in talks with a few  clients," chief operating officer Indranil Das Blah told Business Standard.
Though he has not endorsed any brand as of now, it was learnt from industry sources that Sidhartha Mallya charges Rs 10-15 lakh (Rs 1-1.5 million) for appearances in fashion events and had walked the ramps for a few designers.
Image: Sidhartha Mallya | Photograph: Rajesh Karkera