Following the government move to allow FDI policy in the civil aviation sector, Chairman of debt-ridden Kingfisher Airlines Vijay Mallya on Wednesday said the carrier was in talks with foreign airlines.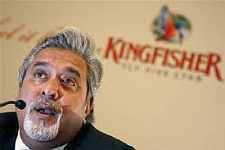 "Yes, we are in talks" he told reporters on the sidelines of the annual general meeting of the UB Group promoted by him.

He, however did not provide details citing "privacy and confidentiality" reasons.

When asked how beneficial will be the new FDI policy, that allows foreign airlines to pick stakes in domestic air carriers for Kingfisher, Mallya said it was too early to comment.

"It is too early to say about the status report of the FDI policy...There is an established FDI approval procedure. I see a normal course of business going to happen," he said.

Mallya also informed
that his airline will be making a presentation to the SBI led consortium of banks that have lend to Kingfisher.
"We have regular meetings with KFA banking consortium. I can confirm that there is meeting tomorrow. We will make presentation to them as requested," he said.
Banks together have an exposure of nearly Rs 7,000 crore (Rs 70 billion) in the airline and the loans have all become non-performing assets since January.
SBI has an exposure of Rs 1,500 crore (Rs 15 billion) to Kingfisher Airlines. The lenders consortium had asked Mallya to personally make a presentation on turnaround plan.
Mallya said, "Tomorrow, we have a meeting with SBI and whatever issues they will raise, we will respond."
Chaudhury had recently expressed the hope that Mallya would come up with "something tangible" for its revival in the wake of liberalisation in FDI in the sector.