Louvre Hotels Group, which announced the opening of its first 'Royal Tulip' in Navi Mumbai in partnership with city-based Concrete Builders, on Monday said it is eyeing around 50 properties with about 5,000 rooms by calendar 2015 under its various brands.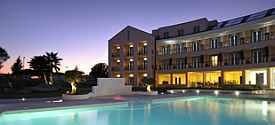 "At present we  have 1,000 rooms spread across our brands – Tulip Inn and Golden Tulip, and another 97 rooms with the opening of Royal Tulip in Navi Mumbai. We are targeting 8-10 properties every year under these three brands and are aiming about 50 hotels by 2015," Louvre Hotel Group Managing Director for South Asia Vimal J Singh told reporters.

The group which developed Royal Tulip in South Asia, is also scouting to develop another two under the same brand in Goa and Bangalore.

"We are looking at several properties in Goa and Bangalore. But nothing has been  finalised yet. We hope some concrete development soon," he said.

From the new hotel in Navi Mumbai, the company is initially aiming for 50 percent occupancy in the first year of operation and 60-70 percent in the third and fourth year of operation, he said.

The room tariff of the luxury hotel begins from Rs 1,800 per day and goes up to Rs 3,500. "We are confident that the upcoming international airport at Navi Mumbai, which is 2 kms from here, would have global visibility and thus we see tremendous potential.

These new hotels will provide the travellers with more options to experience luxury. We are very bullish on the Indian market and are aggressively looking at
developing Louvre branded hotels in India. We are a long term player and looking at long term associations in the Indian market," he pointed out.
Commenting on the launch, Concrete Builders Chairman Suresh Wadhwa said, "with the launch of Royal Tulip Navi Mumbai, we have forayed into the hospitality sector. As Navi Mumbai lacks high end luxury hotels, we decided to tap this opportunity and give the city, a luxury hotel, which shall turn into a landmark product in the hospitality landscape of Navi Mumbai."
Louvre Hotels Group is also planning to introduce some of its budget brands like Premiere Classe and Campanile in India in next few months, Singh said.
"We are planning to introduce Premiere Classe that is a three star and Campanile a four star brand in next few months. We may go for ownership of property for these brands initially. These properties will basically be spread across tier I, II and III cities," he said.
The company currently has 20-25 properties under various stages of development pan–India, he added.
Affiliate of Groupe du Louvre, which is owned by Starwood Capital Group private equity firm, Louvre Hotels Group currently has a portfolio of 7 brands, ranging from 1 to 5 stars.
The Louvre Hotels Group has around 1500-1800 employees in India, which will grow proportionally with its expansion in the country, Singh added.
After forging a strategic alliance with Golden Tulip Hospitality Group, Louvre Hotels Group has become the 8th largest hotel chain in the world, with more than 1300 hotels with more than 95,000 Hotel rooms in 40 countries.