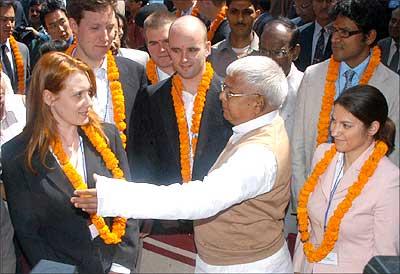 They bowled googlies and bouncers, but the master batsman in Railway Minister Lalu Prasad knocked out a group of MBA students from America on Friday with his rustic 'humbleness' and an offer to join a resurgent Indian Railways.
The students from the Universities of Texas and Virginia came to know about the 'fairytale turnaround' of the behemoth Indian Railways from a loss-making entity to a profit-making one and 'guru' Lalu certainly did not disappoint them.
During the 50-minute interaction at the Railway Museum in New Delhi, he shared the 'success story' of the Railways and told the guests, many of them Indians, in a mix of Hindi, English and Bhojpuri that there is no 'magic wand' in his hand and it all happened because of the hard work of his employees.
He faced questions ranging from steps to check pollution, sustainability of the success saga, his vision and plans for the future, cleanliness in Indian trains, role of private players and, above all, his message to management students.
"He put it all on the employees. He said he does not deserve all the credit and it was the effort of around 14 lakh (1.4 million) employees that saved the Railways from breaking down," Texas University student Omar Ghalayini said.
"I told them that when Lord Krishna lifted Govardhan, he got the help of thousands of villagers. The Railways is like a family. If it is reaping profits now, it is because of the hard work of employees," Lalu later told reporters.
But what really floored the students, who were in Delhi as part of their course, apart from the Indian hospitality and culture was Lalu's offer to them to join the Railways, prompting many of them, especially Indians, to think about the option.
"We asked him how can we support him as we wanted to do something for India after our studies and his reply was come and join the Railways and help to take it to new heights," Priyanka Malhotra, an Indian student, said.
They asked him about the steps taken by the Railways to cut down emission and his reply was 'electrification,' switch over from coal engines to bio-diesel ones and planting of Jatropa saplings and on the role of private investment -- a strict 'no, no' in core sector.
"He said private investment was possible in non-core areas: like in making world class railway stations, dedicated freight corridors and for upgrading catering, warehousing and parcel services," Shweta Pillai said.
When Lalu went hammer and tongs about the hard work put in by employees, the students had another doubt -- what have you done for them?
The railway minister told them about the 65 days bonus given to railway employees, special Holi allowance of Rs 400 distributed to Grade D workers and facilities given to field workers.
Many of the foreign students, who are visiting India for the first time, found the Bihari politician a 'humble man' and an 'inspiration' to students, especially from the lower strata of the society.
"He is a perfect model of Indian democracy. Hailing from a small village he rose to the ranks of the government with his entrepreneurial skills," said Katherine Mary Houlihan, a student of Texas University. -- PTI
(Above) A group of MBA students from the University of Texas and University of Virginia met Railway Minister Laloo Yadav in New Delhi on Friday.
Photograph: Dijeshwar Singh/Saab Pictures