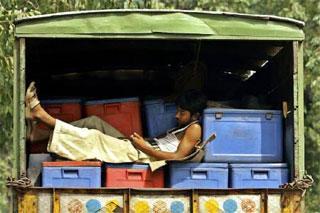 The implementation of Goods and Services Tax will help reduce logistics costs for companies by up to 30 per cent over 3-4 years due to savings in warehousing cost and elimination of check-posts, ratings agency Crisil said on Tuesday.
Once the Central sales tax is phased out, optimisation of warehouses and inventories will accrue in savings on logistics.
The elimination of check posts will also help deliver savings as goods move faster, the agency said, pointing out that the consumer durables sector will benefit the most.
"Manufacturers of non-bulk goods spend about 5-8 per cent of sales on logistics. Goods and services tax will save warehousing costs of 1-1.5 per cent of sales over the next three-four years.
"Elimination of check-post delays will yield additional savings of 0.4-0.8 per cent, thus taking overall savings to 1.5-2 per cent of sales," senior director of
Crisil's research wing Prasad Koparkar said.
This will amount to a saving of up to 20 per cent on the total cost of logistics for companies, he added.
Those in favour of GST, which will make the entire country a single market, believe that the move will help push gross domestic product by up to 2 per cent in the medium term.
However, the annual incremental GDP will be around 20 basis points only.
Crisil said a complete phase out of CST is necessary for enjoying the benefits on the logistics side.
"To get states on its side, the government has proposed allowing states to levy an additional tax of 1 per cent on supply of goods in lieu of CST for two years.
"We believe this is against the core principle of GST, and will defer full benefits of the rollout," the report said.
It added that at present, 25 per cent of the journey time is wasted at the various check posts and city entry points, which results in higher cost of operations as well as forces companies to maintain buffer inventories.
On the benefits side, Crisil said the consumer durables sector, which has the most number of warehouses set up solely to avoid paying CST, stand to potentially save 30 per cent of their logistic costs.
For the fast moving consumer goods and pharmaceutical sector, cost gains may be lower at 15-20 per cent as much of the warehouses are already located near the distributors because of the nature of the business where stocks need to be replenished faster.
In the Budget, Finance Minister Arun Jaitley had promised that GST would be rolled out from April 1, 2016.
The GST Bill after being passed by the Lok Sahba has been sent to the select panel of the Rajya Sabha after the Opposition objected to the changes the government brought into the previous Bill and is likely to be taken up again in the forthcoming monsoon session.