The cross Line of Control (LoC) trade resumed Wednesday after a gap of 40 days.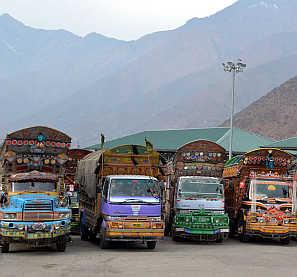 The trade between Uri and Muzaffarabad was suspended on January 17 following a drug haul from a POK truck leading to the arrest of the driver and detention of his truck. .

The POK authorities in retaliation detained the entire fleet of 27 Kashmir trucks which had crossed over to POK to deliver goods.The fleet of POK trucks were also held up in the trade facilitation centre Salamabad near the border town of Uri.

However, following rounds of negotiations, the POK authorities released the 27 trucks on February 12. The 48 POK trucks were also allowed to cross over to POK the same day.

The driver of the POK truck carrying the 114 kg narcotics has been remanded to police custody by a local court.

"The trade has resumed today and 22 trucks have left the trade facilitation centre at Salamabad with a variety of goods for Muzaffarabad," said a senior officer.

He said four trucks from POK are also expected to reach Salamabad later today.

As part of the CMB's between the two countries, the Srinagar Muzaffarabad bus service started in April 2005 while the trade between Srinagar and Muzaffarabad began in October 2008.