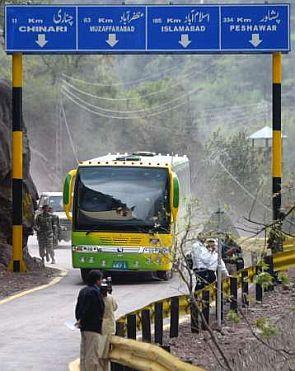 The Srinagar-Muzaffarabad bus service was cancelled on Monday following the recovery of 114 kg narcotics from a truck, which crossed over from Pakistan-occupied Kashmir, triggering a standoff between the two sides.
Following the recovery of the narcotics, the truck driver was detained by the authorities at the trade facilitation centre at Salamabad near the border town of Uri in north Kashmir's Baramulla district on Friday.
The detention led to the suspension of the cross-LoC trade with the PoK authorities detaining an entire fleet of 27 trucks along with their drivers, who were returning to Uri after delivering goods at the Chakoti trade facilitation centre in PoK.
Following this development, the authorities at Uri also detained a fleet of 48 trucks along with drivers and did not allow them to return to Muzaffarabad.
Despite negotiations between officials of the two sides, no headway had been made so far as the PoK authorities are demanding the release of the truck and its driver.
As the standoff continued, the Srinagar-Muzaffarabad bus service was cancelled on Monday.
"Yes, the bus service didn't operate today," said a senior police officer.
As part of the confidence building measures between the two countries, the bus service started in April 2005 while the trade between Srinagar and Muzaffarabad began in October 2008.
While the Karavan-e-Aman Bus Service runs on weekly basis, the cross LoC trade is conducted from Tuesday to Friday every week.