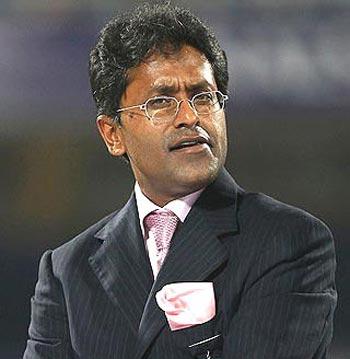 After quitting the board of cigarette company Godfrey Phillips in June, former Indian Premier League commissioner Lalit Kumar Modi has transferred his personal stake in the firm to his son, Ruchir.
According to a disclosure to the BSE made by Godfrey Phillips on Friday, Lalit Modi transferred his 2,000 shares worth Rs 114,000,0 (as of Friday) in his name to son Ruchir Kumar Modi as a gift on July 21.
Modi is under investigation by the enforcement directorate for alleged financial irregularities while hosting the IPL tournament. The Modi family owns 46 per cent stake in the company and Philip Morris owns 25.1 per cent.
A source in the group said the entire Modi family stake in the company was held through investment companies and trusts. Lalit Modi, his two siblings and his mother, Bina, were named as beneficiaries of the trusts, a source said.
The company's market value was Rs 2,950 crore or Rs 30 billion on Friday.
Corporate lawyers say the share transfer assumes significance as the government has issued notice against Modi for financial irregularities and in future any asset in Modi's name is likely to be litigated against. Hence, the transfer.
"Modi may be apprehensive that the ED may move to attach his assets in India. That may be the reason why he is transferring assets to his children," said a Mumbai lawyer asking not to be named. "There may be other transactions."
Modi has denied all charges of financial impropriety and has said in numerous interviews that no Indian court has convicted him. E-mails to Modi did not elicit any response.
Telephone calls to the Godfrey Phillips Delhi office went unanswered.
Modi was recently under attack for proximity to foreign minister Sushma Swaraj and Rajasthan Chief Minister Vasundhara Raje.
The entire monsoon session of Parliament was washed out as the Opposition sought the resignation of Swaraj and Raje for helping Modi with travel documents at a time when he was required by agencies to be present in India for investigation into the charges.
Lalit Modi transfers stake in Godfrey Phillips to son Modi had said he was helped by Swaraj on humanitarian grounds as his wife was suffering from cancer and he was to travel to Spain for her treatment.
Modi had quit the board of Godfrey Phillips in June as he did not attend the board meetings for the last few years. According to Godfrey Phillips' annual reports, Modi had not attended a single board meeting in financial year 2013-14.
But, he took home Rs 1.7 crore in fees and other remuneration. In 2012-13, Modi had earned Rs 1.1 crore though he attended only one board meeting through a teleconference