It is pouring heavily not only in North India, but at Dalal Street too.
However, the latter is seeing a flurry of initial public offers (IPOs).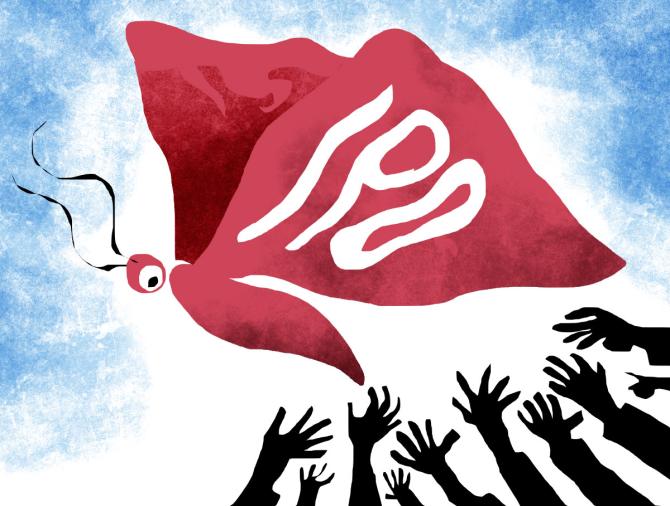 After a busy fortnight that ended on July 7 with seven IPOs – IdeaForge Technology, Cyient DLM, PKH Ventures, Pentagon Rubber, Global Pet Industries, Tridhya Tech, and Synoptics Technologies -- four more IPOs will hit the Street this week, including one mainboard IPO of Utkarsh Small Finance Bank.
That apart, India's largest securities' depository National Securities Depository Limited (NSDL) has filed its draft red herring prospectus (DRHP) with the Securities and Exchange Board of India (Sebi) for an IPO.
The dates of the offer, which is entirely an offer for sale (OFS) of 57.26 million shares, have not been fixed yet.
Analysts, however, believe the current buzz in the primary market shouldn't be extrapolated as a vast trend revival as majority of the upcoming IPOs are of small & medium enterprises (SMEs).
"It is too early to think that primary market revival is on cards as market regulator Sebi has issued its observations in close to 39 offers.
"Unless these offers come to the mainboard for listing, it can't be said with certainty that the IPO market is back in full swing," said Astha Jain, senior research analyst at Hem Securities.
At present, only Utkarsh SFB's offer is pending under the mainboard category for the month of July.
The IPO will open on Wednesday, July 12, and close on Friday, July 14.
The Rs 500-crore offer will be available in a price band of Rs 23-25 per share.
On the contrary, IPOs of Alphalogic Industries, Global Pet Industries, Veefin Solutions, Magson, Essen Speciality Films, Greenchef Appliances, Tridhya Tech, Synoptics Technologies, Pentagon Rubber, AccelerateBS India, and Drone Destination have already hit the markets under the SME category over the past few weeks, while offers of Kaka Industries (July 10-12), Ahasolar Technologies (July 10-13), Services Care IPO (July 14-18) will be available for subscription over the next two weeks.
The post-issue paid-up capital should be between Rs 1 crore and Rs 25 crore for a SME IPO, while it should be a minimum of Rs 10 crore for a regular IPO.
"The recent flurry of IPOs in the market should not be read as a trend revival.
"Most of these offers are coming right now because their regulatory deadlines, to bring the IPOs, are about to lapse.
"Hence, while we will continue to see some mainboard offers hitting the Street, it is not a primary market revival yet," said Arun Kejriwal, founder, KRIS Capital.
Listing gains
On July 10, Cyient DLM listed at Rs 401 on the BSE, a 51 per cent premium over the issue price of Rs 265 per share.
The shares listed at Rs 403 on the National Stock Exchange.
Last week, IdeaForge nearly doubled investors' wealth when it listed at a 93 per cent premium over the issue price.
HMA Agro, on the other hand, listed 7 per cent higher than its issue price.
Meanwhile, the shares of Utkarsh Small Finance Bank were commanding a premium of Rs 12 in the grey market on Monday, July 10, translating into a listing gain of 48 per cent over the upper end of the price band of Rs 25.
Going ahead, analysts suggest sustained listing gains and stable secondary markets are needed to keep the primary market mood intact.
"The interest in the primary market could revive if investors see secondary markets rallying for another month or two after the recent up move.
"People need to make money in a couple of offers to regain confidence.
"Some of the sectors that may see light of the day include hospitality, capital goods, and auto/auto ancillary," said Nishit Master, portfolio manager & vice-president at Axis Securities.