Those in the business of films believe the timing of the sentencing could not have been worse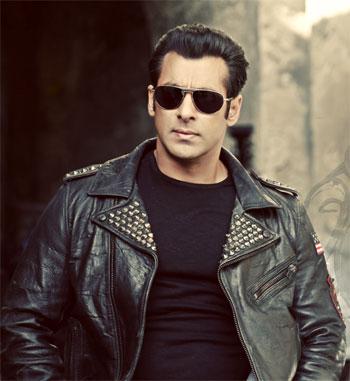 Actor Salman Khan was on Wednesday held guilty of culpable homicide in a 2002 hit-and-run case by a Mumbai sessions court and sentenced to five years in jail. Khan was later granted interim bail till May 8 by the Bombay high court.
The film industry is preparing itself for the consequences of the sentence. As much as Rs 350 crore (Rs 3.5 billion) is riding on Khan, promoter of the Being Human brand, in terms of film releases and endorsement deals.
While his films account for almost Rs 250 crore (Rs 2.5 billion) in investments, he also has brand endorsement commitments of around Rs 100 crore (Rs 1 billion) to honour per year. The investment on his films accounts for almost one-fifth of the total investment on Bollywood movies between June and October, which is when most high-profile releases will hit the screens.
Khan is slated to star in not one but two festival releases this year. His first release, Bajrangi Bhaijaan, is set to release on Eid, while Prem Ratan Dhan Paayo is to release on Diwali. Both the films are currently under production, with the former having 10 per cent of production left, and the latter 20-25 per cent.
Bajrangi Bhaijaan also features Kareena Kapoor Khan and Nawazuddin Siddiqui, and is the first film under the actor's own production banner Salman Khan Films. Film studio Eros International is the distribution partner for the project. Estimates peg the cost of the film at Rs 115 crore (Rs 1.15 billion). The second film starring Khan is produced by Rajshree Films and Fox Star Studios with an estimated cost of around Rs 120 crore (Rs 1.2 billion).
While the two studios – Eros and Fox Star – do not stand to lose much money in case the movies do not release, the main producers – Khan and Rajshree – could find themselves in a fix. "The risk is more to Salman's banner and his investors than Eros in this case," says an industry source. "Usually, in these deals, the distribution partner comes in the picture once the film is made and is ready to be marketed and distributed. Bajrangi Bhaijaan is in the third schedule of its shoot, so currently Eros has little to lose. Had this happened after the film was made, it might have affected the film's promotions and hence box office performance, but no one can say for sure."
Those in the business of films believe the timing of the sentencing could not have been worse. The first quarter of 2015 has been dismal for Bollywood in terms of box office collections with films like Tevar, Roy, Shamitabh and Detective Byomkesh Bakshi failing to make a mark. "We were banking on Salman's movies for some good business. An Eid release starring him is always a good time for business and now it may not happen," says a distributor.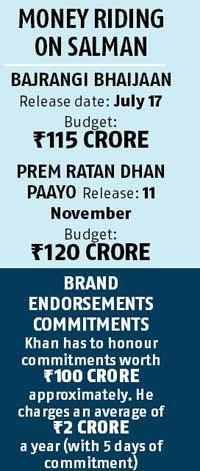 Brand Salman
Perhaps the biggest impact will be felt on brand Salman. While ad-man Prahalad Kakkar maintained while talking to a news channel that brand Salman has always been controversial and the impact would not be great, there are others who feel that a convicted celebrity has little hope in this case.
"There are companies that are taking a socially relevant and active brand image. For them, no matter his popularity among the masses, he does not make a good brand fit," says one such brand manager. None of the brands endorsed by Khan have taken a call on their association with the actor.
Khan currently endorses eight brands: Tiger Biscuits, Suzuki Hayate, Relaxo Hawaii, Revital, Thums Up, Wheel, Dixcy Scott, Yatra.com and Astral Pipes. None have expressed intentions to alter the existing contract, though, some seem to be thinking of re-evaluating the association. Coca-Cola, the company that owns the brand Thums Up, said in a statement, "We hold the court verdict in the highest regard. We are evaluating the next steps." Others, when contacted, refused to comment.
"If he cannot avoid the sentence and has to spend the next five years in jail, his career will take a huge beating," says another industry professional.
"Salman is almost 50 right now, which means he would be touching 55 when released. Not many roles would be available for him at the age. Also, there is a slew of younger actors waiting to take over from the Khans," he says.
The actor used to anchor the popular reality show on Colors, the flagship general entertainment channel from Vikacom18. It is yet not clear whether Khan was going to continue his stint as anchor on the show in its 9th season as well. Both the channel and Khan's team were unavailable for comment. Estimates say that the actor was paid around Rs 60-65 crore (Rs 600-Rs 650 million) for his anchoring stint in the 2014 season.