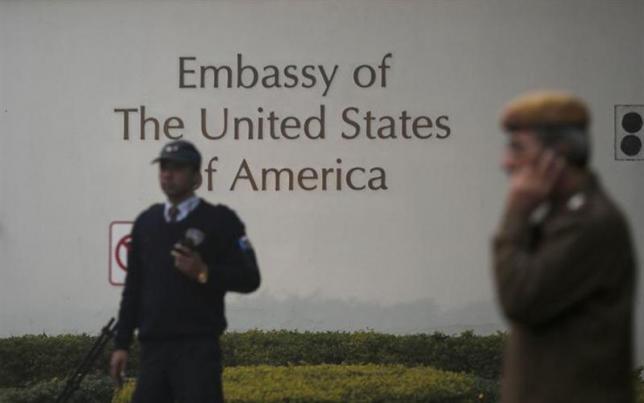 Indo-US relationship is not merely government-to-government but is widely endorsed by the people and it is stronger than ever, Finance Minister Arun Jaitley has said. Jaitley made the remarks at a dinner reception hosted in his honour at the Indian Embassy which was attended by many senior Obama Administration officials and senior ministers.
It is rare for so many administration bigwigs, including three cabinet rank ministers, to attend a reception for a visiting Indian minister.
"This relationship is not merely a government-to- government relationship, it is a relationship widely endorsed by the people," Jaitley, who is here to attend the annual spring meeting of the International Monetary Fund and the World Bank, said.
In his brief remarks, Jaitley acknowledged that the presence of top officials was a reflection of the new era of India-US ties.
"Prime Minister Modi was here in the US last September. President Obama became the first President to visit India twice during his presidency. The kind of reception he received at our Republic Day where he was the chief guest is only an endorsement of the fact that...it is a relationship widely endorsed by the people," he said.
India, Jaitley said, is going through a very transformational change. "It's a change where we can see the role ahead of us," he said.
The role is to strengthen the economy, get rid of several legacies of the past so that the government is able to serve its people the most it can, Jaitley said. The India-US relationship is stronger than ever, Jaitley said.
The Indo-US partnership now extends to various fields. Jaitley said, it is not merely a partnership in terms of business activity, or creation of smart cities, or skill development, it is a partnership in strategic areas that impacts the lives of the people of the two nations.
The reception was attended by top administration functionaries like Treasury Secretary Jack Lew, Transportation Secretary Anthony Fox and US Trade Representative Mike Froman.
Several powerful American lawmakers, including Chairman of the House Foreign Affairs Committee Congressmen Ed Royce, Chairman of the House Committee on Rules Pete Sessions and newly married Congresswoman Tulsi Gabbard, attended the reception held here.
The US India Business Council Chairman and Master Card CEO Ajay Banga and Honeywell CEO Dave Cote were among the top American corporate leaders to attend the reception.
Image: US embassy security guard (L) and an Indian policeman stand in front of the main gate of the embassy as the bulldozer (unseen) removes the security barriers, in New Delhi December.
Photograph: Adnan Abidi/Reuters