Airlines and travel agents are on a collision course. On Thursday, the International Air Transport Association (IATA) informed travel agents that they would have to remit the ticket sale proceeds to airlines every week, in place of the current fortnightly span.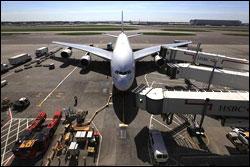 IATA has slated the change to come into effect from June 1, even as agents are demanding a deferment in its implementation.
The proposed change, according to a senior executive with a private airline, would bring about a paradigm shift in the way airline ticketing business is done in India. IATA's billing settlement plan (BSP) is as a payment gateway for travel agents.
Twice a month, agents are required to remit to airlines proceeds from ticket sales. For instance, if a ticket is sold by an agent between the 1st and 15th of a month, the agent deposits the amount to the airline on the 25th or the 30th of that month.
Air India, Jet Airways and Kingfisher, all of which are struggling with mounting losses and finding it difficult to pay their vendors in time, took the lead to secure an approval from IATA to change the billing cycle to seven days from fifteen.
A resolution to change the billing cycle in India was approved way back in October last year at an IATA conference attended by all member airlines, though it was only on Thursday that the new remittance plan was introduced.
According to the new plan, for all sales between 1st and the 7th of a month, an agent will have to make payment to the airline on 15th and so on. Low-cost airlines such as IndiGo, GoAir and SpiceJet are not members of the BSP.
"This will improve the cash flow of airlines," the executive said. "We sell the ticket, but do not realise the amount for over 15 days." The agents, he added, would have to reduce the credit period given to corporate clients so as to adjust to the new system.
Certain travel agents give large corporates as much as three months' credit for the business. "Other countries have adopted a seven-day billing cycle. Why can't it happen in India?" he asked. Korea has adopted a three-day billing cycle, a source said.
There are some other advantages too. The agents are required to submit bank guarantees to IATA's BSP, which would be revoked in case an agent defaults. Now with the reduced billing cycle, airlines will be able to ascertain defaults and stop transactions with such agents much earlier.
But travel agents are not in a mood to accept the changed billing pattern.
Some went as far as to suggest that this was a "death knell" for their business. The airlines, which are under pressure to control their costs and arrest losses, have in the last couple of years reduced the commission for agents.
Last month, Air France told agents that it would not let agents to book with a credit card, as it incurs a cost on such transactions.
Travel Agents Federation of India (TAFI) says it will be a difficult proposition to make remittance four times a month. "No corporate pays you on the spot. So, from where will agents arrange the finances," asks Ajay Prakash, president of the federation. For some large agents, he says corporate sales account for 50-60 per cent of their business.
"There is also a fear that the change in billing cycle will hurt small travel agents," he adds.
"For us too cash flow is important," reasons Pradip Lulla, former president of TAFI. "Travel business is increasingly becoming a high-interest low-margin business. Bringing about the change requires time."
The Travel Agents Association of India plans to take up the issue with the airlines later this month. "We are talking to the credit card companies as well," reveals association president Iqbal Mulla.
Agents have been booking customer tickets using corporate credit cards. These give agents a credit limit up to 45 day, but airlines are crying foul that as they have to pay a (small) fee to banks for such transactions. Other airlines may take a cue from Air France and issue similar orders, according to travel industry sources.
An aviation expert observes that the seven-day billing cycle will benefit the agents. "It will lead to better financial management. It will also reduce cost of doing business," he says. "The agents are required to give bank guarantees to IATA's BSP for a fortnight's credit period. Now, even the guarantee amount will also reduce."
Image: An Airbus A380-800 aircraft. | Photograph: Stefan Wermuth/Reuters