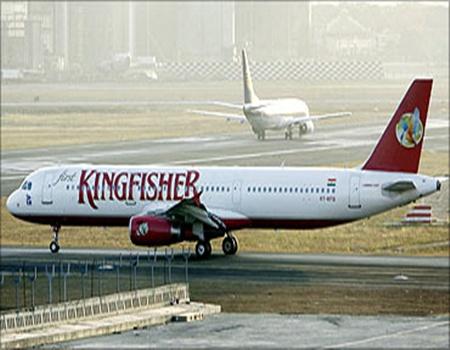 Crisis-ridden Kingfisher Airlines would come up with a recovery road map in three days, chairman Vijay Mallya promised on Thursday.
"We are working on a new plan and that will be announced in three days," said Mallya after meeting pilots protesting delay in salary payments. "I heard their grievances and have assured them that their grievances will be addressed soon," he said. However, there was no confirmation by pilots that they would return to work. They said they would meet soon to take a call on this.
Mallya said the plan included bringing the airline back on the International Air Transport Association (IATA)'s clearing house. IATA suspended Kingfisher from its billing and settlement plan (BSP) because of non-payment of Rs 50 crore. The suspension can be revoked if the airline makes the payment.
Interacting with media persons at Hyderabad, IATA director general Tony Tyler said on Thursday, "We had to suspend Kingfisher from the BSP and the international clearing house. It was necessary to protect the whole system. We are discussing with Kingfisher the terms for their reinstatement."
Mallya said he would meet IATA officials in Delhi tomorrow to discuss the issue.
Suspension from the BSP platform has taken Kingfisher tickets out of agents' booking system. The BSP is a payment gateway for travel agents. Remittances to airlines are also made through the system. IATA has asked Kingfisher to make the deposit, fearing the beleaguered airline might not be able to honour ticket refunds because of insufficient revenue or shutdown.
Meanwhile, the Directorate General of Civil Aviation (DGCA) is expected to give its report on Kingfisher by tomorrow. The regulator had sent a show-cause notice to the airline in February-end, asking it to explain why its operations should not be suspended.
"We will submit the report either today evening or tomorrow. Kingfisher's recovery plan has not worked. The airline has not been able to fulfill its promise on payment of salaries. We are receiving reports daily regarding flight cancellations," a top DGCA official said. The official said the airline had given a detailed response to the regulator's show-cause notice, on the basis of which it would submit its report.
"We would like to clarify no show-cause notice has been received from the DGCA,'' a Kingfisher spokesperson said in an emailed response.
A safety audit by DGCA last November highlighted the airline had to ground 20 of its 64 aircraft. The situation has worsened since then. A month before, the airline told DGCA it was operating only 28 planes.
Kingfisher is also looking at pruning its schedule in sync with available resources. With a fleet of 28 aircraft, it is operating 101 daily flights.
It pruned its number of daily flights to 175 from 400 during the winter schedule. For the last few months, Kingfisher is facing one crisis after another: Its fleet is shrinking with lenders repossessing planes; bank accounts have been freezed over unpaid dues to the income tax department; IATA has suspended it from the BSP over its failure to clear arrears on time; and its pilots are refusing to fly because salaries have not been paid for over two months.
"We have returned one A-330 aircraft and two A-320 aircraft under mutually signed agreements with lessors,'' the airline spokesperson said.
With a debt of Rs 7,000 crore and losses in three consecutive quarters, the airline is desperately seeking cash. Lenders have refused it any further loan, at least until it arranges more equity funding.
Union Budget 2012-13: Complete coverage