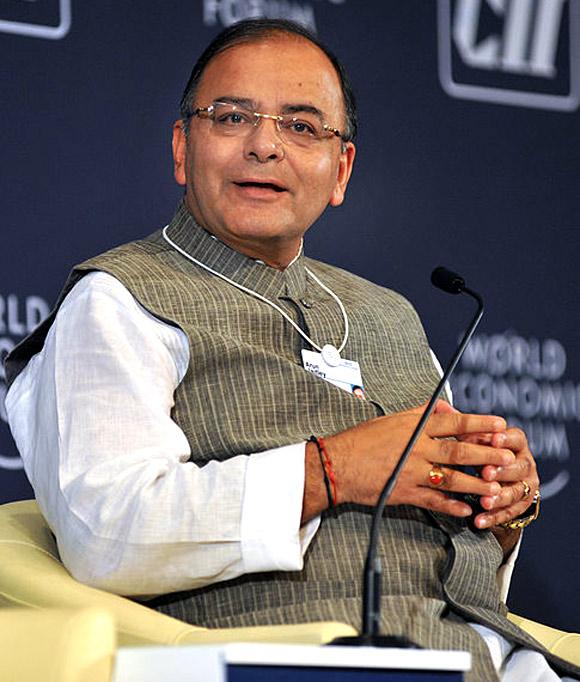 Finance Minister Arun Jaitley met business captains on Friday in his pre-Budget consultations, who pressed him for "bold decisions" to ensure a return to high growth.
Taxation laws were a prime point in their lobbying.
They want Jaitley to end any retrospectivity for income tax, simplify these rules and further defer implementation of the General Anti-Avoidance Rules from the scheduled 2016-17 financial year.
They also wanted early rollout of a Goods and Services Tax and a review of the Direct Taxes Code. Bharti Enterprises group chairman Sunil Mittal said, "We are very hopeful that the demands or needs of industry will be taken care of.
We pitched for reviving the investment sentiment and making the tax regime much simpler to understand, taking away ambiguities.
" On the telecom sector, he demanded auctioning of more spectrum. "We covered manufacturing as a thrust sector, innovation, entrepreneurship, job creation," said Biocon head Kiran Mazumdar-Shaw.
She said the government seemed very committed to reviving investment and high growth.
Suzlon Energy chairman Tulsi Tanti said he'd asked for fiscal incentives to boost domestic investment in renewable energy. Since interest costs are so high, he also pushed for using the Clean Energy Fund for renewable energy. According to Rafeeqe Ahmed of the Federation of Indian Export Organisations, "He (Jaitley) has given us an impression that he is going to give due priority to manufacturing, exports and employment."
And, had said he could not go too far on the populist side. Confederation of Indian Industry president Ajay Shriram pitched for changes in the Income Tax Act. "A simple, transparent and non-adversarial tax regime, bereft of complexities and ambiguities, would go a long way to strengthen business sentiment and restore faith of the foreign investor in the India growth story," he said.
Invited but absent
*Mukesh Ambani, chairman, Reliance Industries Ltd
*Cyrus Mistry, chairman, Tata Sons
*Kumar Mangalam Birla, chairman, Aditya Birla Group
*Anil Ambani, chairman, Reliance ADA Group
*N R Narayana Murthy, co-founder, Infosys
*Anand Mahindra, chairman & MD, M&M
*Y C Deveshwar, chairman, ITC
* Ashwin Dani, vice-chairman, Asian Paints