EU on Friday said it is not seeking inclusion of data exclusivity provisions in the proposed free trade agreement with India and added there is a political will from both the sides to move on with the pact.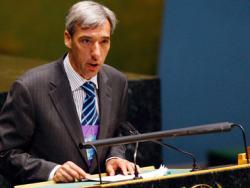 In pharmaceutical sector, drug companies generate such data through expensive global clinical trials to prove the efficacy and safety of their new medicine.

By gaining exclusive rights over this data, innovator companies can prevent their competitors from obtaining marketing licence for low-cost versions during the tenure of this exclusivity.

It is felt that inclusion of data exclusivity provisions would delay, and could even prevent the registration of generic versions of medicines - even when there is no patent on a medicine. It would also hurt the interests of the domestic generic drugs industry.

"No we are not asking for anything whether it concerns data exclusivity or patent extension," Head of EU Delegation to India Joao Cravinho said.

He was addressing reporters along with the visiting European Union Commissioner for Health and Consumer Policy Anthony Borg. Borg was here to meet government officials and industry leaders.

There were strong apprehensions from Indian side that EU is pressing for inclusion of this provision in the FTA.

He said that the 27-nation bloc is not asking for anything which will impact Indian generic medicine industry.

India is a major player in this sector. India's generic drug industry is estimated at over $20 billion and the country exports 50
per cent of its produce.
On the issue of leakage of certain portions of the FTA text, Cravinho said that they do not stand by the veracity of those documents.
On the ongoing negotiations for the much-delayed free trade agreement between India and EU, Borg said there are stumbling blocks on the way of the pact "but lets move on because we are so near to the agreement".
He asked both the sides to grab the window of opportunity through conclusion of talks.
"...certainly there is a political will to move forward now...," he added.
Prime Minister Manmohan Singh on Friday concluded his three-day visit to Berlin where both the sides have set a target of concluding the long-awaited pact, officially dubbed as Bilateral Trade and Investment Agreement (BTIA) this year.
On April 14, Commerce and Industry Minister Anand Sharma will meet EU trade commissioner Karl De Gucht in Brussels to take stock of the negotiations.
India is in talks with the EU, its biggest trading partner, since 2007 for liberalising their commerce in goods, services and investment through an FTA.
The agreement would involve slashing of duties on over 90 per cent of the trade and opening up of mutual markets for services and investment.
Data exclusivity provides protection to the technical data generated by innovator companies to prove the usefulness of their products.
Image
: Head of EU Delegation to India Joao Cravinho