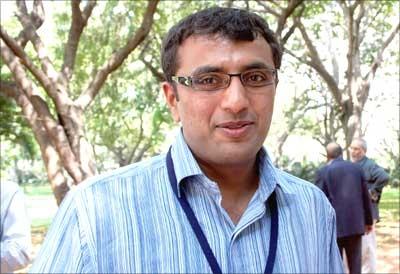 Some of the finest brains of the IIT-Bombay alumni came together to celebrate the the institute's Golden Jubilee at the Lalit Ashok in Bangalore recently. Rightly named Kal Aaj aur Kal, the event the past, present and future of IIT.

rediff.com caught up with a few of them to get an insight into these former IIT-ians' views, ideas and opinions. For instance, it was quite an experience speaking to Manish Agarwal, managing director of Picsquare.
Agarwal is a first generation entrepreneur. Though he belongs to a Marwari family that cannot imagine working for someone else, his family supported him when he launched Picsquare a portal.

It is a portal where one can print one's photographs and can even get them embossed on mugs, T-shirts, calendars, scrap books and have them delivered at home.

With time, his business became so successful that Infibeam, a retail portal based in Ahmedabad, took over Picsquare.
"I did not think of starting another venture when Infibeam took over our company because they allowed it to retain its brand name and also allowed us to function as we were. I am still a stakeholder. I did not sell all my shares."
About Infibeam, Agarwal said they were a retail portal with many products. It was a company formed by individuals who had worked for Amazon.com for several years. They had brought their knowhow in launching this portal.
"Infibeam has an understanding with Flickr, another photo portal. There you can print your photos with Picsquare even if the images are uploaded on Flickr and not Picsquare. No monetary transaction is involved. We have an understanding with Flickr because we know that loading images onto the net is a laborious process and no one would like to do it twice".
As for expansion plans, Agarwal said, "We are going to deal in photos only but we are going to increase the products on which you can print the photos. Many people like to give personal prints away as gifts. It doesn't have to be photographs alone -- it can be a special design".
For those intending to start an independent business venture, he has a piece of advice: "Most people consider this a huge risk. It's not a risk at all. It's a huge learning experience. You quit a job and start something new. You learn new things when you operate as the boss. If you do well, fine, and if you don't, you can get another job. You will gain in experience which will help you land a better job."
"Why do you wait to loose a job to learn something new? Even while you are working you must keep your mind open to new ideas. You must learn on the job.
As for the vexing issue of layoffs, he said, "Do not start a new venture because you lost a job. Only those who are interested in entrepreneurship should start new businesses. Those who lost jobs should look for another."
Image: Manish Agarwal. | Photograph: Sanjay Sawant