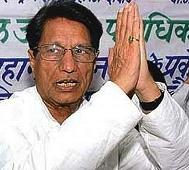 Reacting to the finance ministry's explanation on the language of the note on foreign direct investment in aviation, Civil Aviation Minister Ajit Singh said on Thursday: "I also know English."

This was in response to the assertion of some officials of the finance ministry and the Department of Industrial Policy & Promotion that a strategically placed comma in DIPP's press note on FDI in civil aviation meant foreign airlines were allowed to hold up to 49 per cent stake in existing Indian carriers, as well as new airline companies being set up.

Singh also told Business Standard: "There is no problem in the FDI policy at all -- 49 per cent foreign direct investment, and that through the government route.

"It is just a minor issue in the language of the note.

"I think DIPP should look at it and clarify, so that there is no legal hassle later."

He
added he or his ministry had no problem even with a foreign company first forming a joint venture and then seeking a licence but insisted there was need for more clarity in the language.
Adding to that, a senior official of the ministry said: "The officials in the ministry work according to laid-down guidelines.
So, the language of the note should have clarity."
DIPP's press note 6 on the issue had read: "Foreign airlines are allowed to invest in the capital of Indian companies, operating scheduled and non-scheduled air transport services, up to the limit of 49 per cent of their paid-up capital."
The Foreign Investment Promotion Board on Wednesday cleared AirAsia's proposal to launch a domestic airline in India in alliance with Tata Sons, even as the civil aviation ministry had raised doubts on whether the new guidelines applied only on foreign carriers investing in existing domestic ones or even those setting up joint ventures for greenfield operations.