The name of Beijing Olympics bronze medal-winning boxer Vijender Singh cropped up on Friday following the recovery of 26kg heroin, worth an estimated Rs 130 crore, from an NRI's house in Mohali's district.
The 27-year-old boxer, a DSP rank officer with Haryana police, however, rubbished allegations about him having links with an alleged NRI drug dealer who was arrested by the Punjab Police, saying the "ridiculous charges" will be proved wrong in investigations.
The Punjab Police recovered 26kg of heroin from Anoop Singh Kahlon's house in 'Savastik Vihar', Zirakpur, on the outskirts of Haryana in Mohali district on Thursday. Four persons, including Kahlon, have been arrested so far.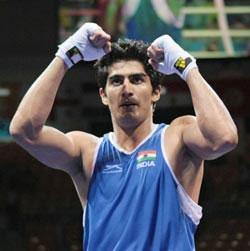 During interrogation, Kahlon alleged that two boxers, Vijender Singh and Ram Singh, a Punjab police inspector, were his "clients" and used to visit him.
Police said Vijender will be quizzed if required.
Besides Kahlon, an alleged drug peddler based in Canada, the other arrested person was Kulwinder Singh, alias Rockey of Nawan Shahar Badala village in Kharar area of Mohali.
According to police sources, two more persons were arrested, but their identity is not being disclosed as investigations may be hampered.
An initial probe by the Punjab police does not suggest any link with Vijender, whose wife's car was recovered at some distance from the NRI's house.
"We just recovered Vijender's car at some distance from the arrested NRI's house and there is nothing much after the initial probe to tell," Fathegarh Sahib SSP Hardyal Singh Mann said in Chandigarh over phone.
"In the initial probe there has been nothing to tell. Besides, it appears there is no link of the boxer with the person from whose house the heroin was seized," he said.
He, however, said that "if needed we may call Vijender for questioning. But, at present, there is nothing in connection with Vijender," he added.
Vijender, a former world No 1, who gave India its first Olympic medal in boxing in 2008, denied that he knew the alleged NRI drug peddler.
"I am shocked. I am in Mumbai right now for work. My friends dropped me at the airport in my wife's car. I don't know how it reached outside that Zirakpur flat," he said.
Sources at National Institute of Sports (NIS) at Patiala said Police have questioned Ram Singh and found nothing incriminating against him so far.
The Haryana police is also in touch with its counterparts in Punjab following the seizure.
"My friends could have used that car after dropping me but I don't understand how can my name be dragged into this. The police has already clarified that nothing was recovered from the car. And they have not even contacted me," Vijender said.
One of the two cars parked found at some distance outside Kahlon's house was that of Vijender's wife, Archana, Mann said, adding that Archana would not be summoned for investigations.
Mann said that so far the Punjab police is "intensively probing" the seizure case and have been conducting raids at different places to arrest the suspects in the case.
The NRI used to visit India frequently and set up a drug supply network in the country, said the SSP.
While Vijender Singh is presently a serving DSP in the Haryana police, Ram Singh, a Punjab police officer, is training at the NIS in Patiala, ahead of an international championship.