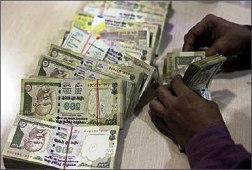 Falling for the second straight day, the rupee on Thursday declined by five paise to end at 54.35 as US dollar demand exceeded supply, amid renewed speculation that RBI will cut interest rates next week.

Strong dollar overseas after February US retail sales exceeded forecasts also weighed on the rupee even as a sharp recovery was seen in local stocks, a forex dealer said.

Initial dollar selling by exporters was totally offset by late dollar demand from importers and some banks, he added.

At the Interbank Foreign Exchange market, the rupee commenced lower at 54.36 a dollar from last close of 54.30. It later traded in a range of 54.17 and 54.53 on alternate bouts of buying and selling.

The rupee finally closed at 54.35, a fall of five paise or 0.09 paise.

On Wednesday, it had declined by 12 paise or 0.22 per
cent.
The Indian benchmark Sensex, which down by over 180 points in morning deals, rebounded to settle up by 207.89 points or 1.07 per cent, breaking three-day string of losses.
While inflation based on WPI marginally rose to 6.84 per cent in February, core inflation fell below the 4.0 per cent mark for the first time in past 35 months, strengthening the case for a repo rate cut by the RBI on March 19.
"The rupee was seen appreciating during the intra-trade on account increasing expectation of rate cut in the up-coming RBI monetary policy.
"But the increasing strength of dollar index internationally washed out the gains in rupee," said Abhishek Goenka, Founder and CEO, India Forex Advisors.
The dollar index was up by over 0.2 per cent against a basket of six major global rivals.
Foreign Institutional Investors invested Rs 303.83 crore (Rs 3.03 billion) on Wednesday, as per provisional data with stock exchanges.