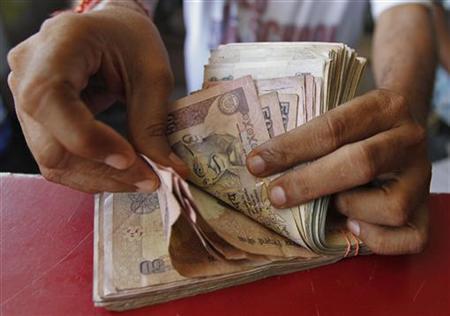 The rupee on Tuesday bounced back by 11 paise to close at 63.55 against the American currency on fresh selling of dollars by banks and exporters on good foreign capital inflows into the equity markets.
The rupee resumed lower at 63.70 per dollar as against previous closing of 63.66 at the Interbank Foreign Exchange (Forex) market and dropped further to 63.75 on initial dollar demand from banks and importers on the back of higher greenback overseas.
However, it recovered to 63.54 on fag-end selling of dollars by banks and exporters before concluding at 63.55 per dollar, showing gain
of 11 paise or 0.17 per cent. It moved in a range of 63.75 and 63.54 per dollar during the day.
The somewhat stable situation in Greece and chances of a Fed rate hike -- which sent dollar soaring and Gold hitting a 5-year low -- also effected the rupee value, dealers said.
At the overseas, the dollar hovered near five-week high versus the yen in early Asian trade after a top Federal Reserve official added to expectations that US interest rates could be raised as early as September.
The dollar index was down by 0.16 per cent against the major currency.
Crude oil prices fell further in Asia today, with US crude falling below USD 50 a barrel as demand for the dollar-priced commodity takes a hit from a strong US currency, analysts said.
The dollar got a boost after Federal Reserve chair Janet Yellen last week stuck to her forecast for an increase in the US central bank's key interest rate later this year, as the economy picks up pace.
Meanwhile, the benchmark 30-share index ended lower by 237.98 points, or 0.84 per cent, to 28,182.14.
Pramit Brahmbhatt, Veracity Group CEO, said, "Today the rupee appreciated by almost 11 paise taking cues from weak dollar index which is trading at USD 97.88 below yesterday's close as investors preferred to book profit at higher levels."
Though the weak local indices which slumped nearly 1 per cent for the day to cap the rupee gain and forced it to close at 63.55, he added.
The trading range for the spot USD/INR pair is expected to be within 63.20 to 63.80. In the forward market, the premium for dollar continued to decline on persistent receivings from exporters.
The benchmark six-month premium payable in December moved down further to 201-202.5 paise from the yesterday's closing level of 202.5-204.5 paise and far-forward contracts maturing in June 2016 also declined to 428-429 paise from 429.5-431.5 paise yesterday.
The RBI fixed the reference rate for the dollar at 63.6506 and for the euro at 68.9081.
The rupee moved up against the pound sterling to close at 98.83 from 99.04 yesterday while closed steady against the euro to 69.03.
It recovered against the Japanese currency to end at 51.11 per 100 yen from 51.26 previously