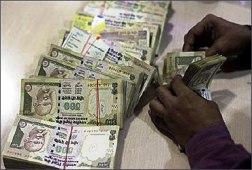 Tracking a sharp rise in local stocks, the rupee today bounced back by 27 paise to close at over one-week high of 54.49 against US dollar as government delayed the implementation of controversial GAAR and a fall in wholesale inflation for December boosted rate cut hopes.

The rupee's upward movement was aided by a good dose of dollar selling by exporters and some banks, amid a weak dollar overseas, said forex dealers.

At the Interbank Foreign Exchange market, the domestic unit commenced a tad higher at 54.75 a dollar from last Friday's close of 54.76 and soon touched a low of 54.82.

However, it quickly bounced back to a high of 54.42 before ending at 54.49 -- a rise of 27 paise or 0.49 per cent.

This is its best closing since 54.35 on January 2.

"Rupee started appreciating after WPI for the month of December eased to 7.18
per cent.
Government's decision to defer GAAR till April, 2016 also supported the positive sentiments in the market," said Abhishek Goenka, Founder and CEO, India Forex Advisors.
Softer inflation number also brought cheer to market as expectations of rate cut were boosted, treasury official said.
With GAAR delayed, rupee gained on hopes that fund flows would increase in the financial markets, they added.
Provisional BSE data showed foreign institutional investors have pumped in over Rs 600 crore (Rs 6 billion) in Indian stocks on Monday.
The stock market benchmark BSE Sensex on Monday spurted by 242.77 points or 1.23 per cent.
The dollar index was down by 0.05 per cent against a basket of six major currencies while New York crude oil was quoting above $94 a barrel in Europe on Monday.