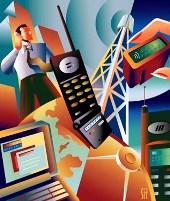 A move by the government to make foreign direct investment policy more stringent in the telecom sector has raised hackles among international companies.

The department of telecommunications, in the draft universal licence guidelines to be signed with telcos which recently won spectrum in the 1800 MHz auction of November, has included a new clause for foreign companies.

It says, "In order to ensure that at least one serious resident Indian promoter subscribes reasonable amount of the resident Indian shareholding, such resident Indian shareholder shall hold at least 10 per cent equity of the licence company."

This could have serious repercussions on all foreign telcos, including new ones such as Telenor and incumbents wanting to migrate to a universal licence, under which telcos can operate all services.

They would now have to find an Indian investor who will stay invested, even if the foreign company prefers to divest stake through a public offering and cover the 26 per cent Indian equity requirement later.

A top DoT official, who did not want to be named, confirmed that the clause was incorporated to ensure the serious Indian shareholding in foreign telcos operating in the countries.

However, recommendations made by the Telecom Regulatory Authority of India on UL guidelines, dated January 2, does not include the clause.

The new condition was not present in the Unified Access Service Licence  agreement signed with all the new companies given a licence in 2008.

It was also not there in the notice inviting applications, on the basis of which telcos bid for spectrum in the auction.

Under the current foreign direct investment policy in telecom, foreign entities can invest up to 74 per cent stake with approval from the Foreign Investment Promotion Board and security clearances.

There are no restrictions on how the Indian equity should be structured.

The condition of 10 per cent was introduced in Press Note 5 in November 2005 by the department of industrial policy and promotion but was superseded by Press Note 3 of April 2007 and the clause removed.

Norwegian giant Telenor's Indian subsidiary, Telewings Communications, which has questioned the move, has said as the clause was removed and is not present in the FDI policy on telecom, its reintroduction lacks a logical or regulatory basis.

The company recently won spectrum in 1800 MHz in six circles and made a Rs 1,326 crore (Rs 13.26 billion) upfront payment.

Telenor did not respond to queries from Business Standard.

Telenor has told the government the move would impose unreasonable barriers on foreign telcos, as they have to find an Indian investor who is ready to hold up to 10 per cent at all times, and at a time when the latter lack appetite to invest in the sector.

And, it makes no sense if the company decides to list the company and go public.

It has also said the clause is archaic and the government has not even defined what 'serious' and 'promoter' means.

Adds a top executive of a leading foreign incumbent telco: "There is no such clause in our agreements.

"But if this is imposed, incumbent operators will not migrate to the UL at all.
"And, it will create a non-level playing field again."